I managed to check one item off of my "to do" list while Donna was away. I cleaned and treated the kitchen cabinets with Kramer's Best Antique Improver. I love this product – it's simple to use and provides a great looking finish that preserves the wood and and enhances the beauty. I just wipe it on with a clean cloth – it may take a few swipes on areas that are dirty – then wipe off the excess. Couldn't be simpler and it makes our solid wood cabinetry look great.
I've been a little hard on my fingers lately. Last Friday I injured my ring finger on my right hand playing pickleball. I mishit a shot that came fast and hard and the ball struck my finger tip, cracking the finger nail down the right side. I put super glue on it to keep the finger nail intact until the damage grows out.
Monday morning I was surprised to find a dozen 3.0-3.5 players on the pickleball courts. We had some great games and I got my 10,000 steps in before lunch! We made plans to play again on Tuesday – a lot of the guys are leaving by the end of the week so I want to get as much playing time as I can get.
Monday evening I was watching the NCAA Basketball Championship on TV. I had a cold one on the counter behind the passenger seat. Ozark the cat jumped up on the counter and I saw my beer toppling off it. I reached out quickly with my left hand to catch it and I missed. I ended up jamming my left ring finger into the corner of the Karadon counter top and damaged my finger. The left side on my finger split and tore away from the nail. Super glue won't help this time – it was a bloody mess.
After the game, I was getting ready for bed. I saw lightning flashes to the north of us and a strong wind suddenly kicked up. Then when I climbed into bed I heard the sound of rain drumming on the roof. We had an unexpected squall and it rained hard for a few minutes. The wind was strong enough to rock the coach a few times. We didn't have any warning of a strong storm.
Tuesday morning I played pickleball again. I left the courts by 9:30am – I wanted to get back to the coach and straighten things out a bit before Donna returned. On the way back, I saw a maintenance crew cleaning up some storm damage. The sheet metal roof on a canopy next to the maintenance building had blown off. The sheet metal traveled to a park model where part of it ended up on the park model roof. Another piece of the sheet metal went through a window on the home and another piece damaged a car. Like I said – there was some strong wind!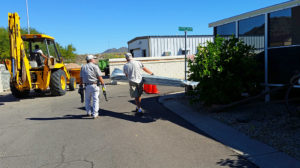 As I was walking down our lane, I saw Donna drive up in her rental car. She came home from her trip to Sedona earlier than I expected. Oh well, our coach wasn't too messy – I've kept up on dishes and cleaning. I wanted to clean out the cat litter box and do a little straightening before she got back though.
It's still breezy this morning – the forecast calls for the wind to diminish this afternoon. The temperature should hit the upper-70s today and tomorrow, then it'll warm up to the upper 80s.
*Just so you know, if you follow one of my links to Amazon and decide to make a purchase, you pay the same price as usual and  I'll earn a few pennies for the referral. It'll go into the beer fund. Thanks!