Friday went pretty much as planned. We pulled out of our boondocking site near the Imperial Sand Dunes around 9:30am and headed west on I-8. There's construction in progress on the interstate between Yuma and El Centro, but traffic was light and it didn't slow us down much. I usually cruise at 60-62mph and we were able to maintain this speed most of the time.
We had a headwind as we crossed the desert. West of El Centro the elevation was zero – mean sea level. There's a huge array of solar panels covering hundreds of acres with a huge transformer station on both sides of I-8 in the desert there. Near Ocotillo, there are wind generators on both sides of the interstate. This is where the climb up to Laguna Summit begins. There are three summits along the route – Tecate Divide, Crestwood Summit and Laguna Summit. All are over 4,000 feet above sea level.
Although we had a headwind, we were able to maintain a minimum speed of 50mph up the grade and the engine coolant temperature never exceeded 197 degrees. I was happy about that. We stopped and had lunch at the Buckman Springs Rest Area. This is located in a valley between the Crestwood Summit and the Laguna Summit and is a favorite stopping place for us. The exit to the rest area on the westbound side is poorly marked. There's a sign advising "Rest Area one mile ahead" but the exit at Buckman Springs doesn't have a Rest Area sign and you can't see the rest area until you've passed it. If you are looking for a rest stop and aren't familiar with the area, you could easily miss this one.
Getting back on the interstate, we had to merge into bumper-to-bumper traffic. There's a Border Patrol checkpoint about a mile from the on ramp at Buckman Springs. Once again, we were waved through with no questions asked and got up to speed again.
We checked in at Mission Bay RV Resort in San Diego around 1pm. I had reserved our site here last November and paid a deposit. That locked in the price at $925/month. They've raised their rates since then – it's now $1,085/month – it was $875/month when we started coming here four years ago. While I was checking in, the girl at he counter mentioned our trailer and overflow parking rent of $150/month. I told her we haven't been charged for trailer parking here since those Dirty, Rotten Thieves stole our trailer from their lot. She looked up our account records and verified the information, but then she told me this will be our last free parking pass. So, next time we come here we will be paying a much higher price.
Although parking our coach at ViewPoint RV and Golf Resort in Mesa, AZ was difficult, the overall dimensions of the site were generous. We dropped our trailer on the concrete pad and had ample space between our coach and trailer to set up our awning mat, chairs and grills. Here at Mission Bay RV Resort, it's a little more cozy. Our neighbor's rig is closer to us than our trailer was at ViewPoint.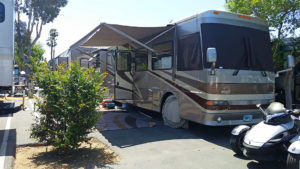 Our friend Sini Schmitt is three sites away from us. Sini came over and visited with Donna while I got us set up. Sini had friends coming down from Seattle and they planned to sightsee on Saturday. They used her friends' rental car and Sini gave Donna the keys to her Saturn Vue. Donna took advantage of the car to get to her hair appointment, stock up on groceries and also visit her sister Sheila in Point Loma.
On Saturday evening, I grilled a pork tenderloin that Donna marinated in her mojo marinade for 36 hours. Twenty-two minutes on the grill had the internal temperature of the loin at 140 degrees – perfect.
The RV park is nearly full with lots of young families and kids here for the Easter weekend. This is a big change from ViewPoint in Mesa, Arizona which is a 55+ park. Not many youngsters racing around on bikes and skateboards there. The weather all weekend was beautiful with highs around 70 degrees – it hit 74 on Sunday. The Easter crowds around Mission Bay Park were at summertime levels – lots of canopies, grills and volleyball games on the grass.
Donna is still trying to overcome a respiratory ailment but wanted to get some exercise on Sunday, so she walked to Trader Joe's in Pacific Beach. It was about a five-mile round trip and she came home with a heavy load as she also stopped at Petco and bought a six-pound bag of cat food. I spent the morning watching the Formula One race from Bahrain.
Around noon, I got ambitious and pumped up the tires on my Specialized Crave mountain bike. It was breezy – I rode toward the ocean on the Bayside Walk right into a headwind. It was slow going. I kept at it and rode all the way to the boardwalk at the end of Pacific Beach Drive.
Easter Sunday and the boardwalk at the beach was crowded!
The wind pushed me along on the ride back and I made good time. I stopped to shoot a couple of photos and still made it back in just 20 minutes.
For our Easter dinner on Sunday evening, I grilled salmon. I tried a different technique. Donna coated the salmon with olive oil on both sides and sprinkled it with salt and pepper. I also oiled the grill grates. I put the salmon skin side up on the hot grill for a few minutes, then turned it skin side down for a few more minutes on medium heat. It worked great! The fish doesn't stick or flake when it it's skin side up because it isn't fully cooked yet.
This morning I plan to head over to the Ocean Beach Recreation Center to play pickleball. Donna's working on a article. Tomorrow Donna is flying to Albany, New York to visit her parents in Bennington, Vermont. Once again, I'll be a bachelor for a week.