Our three-night stay in Hemet passed quickly. Tuesday morning I went outside around 9:30am and was surprised to hear people on the pickleball courts.I didn't think enough people were in the park to play pickleball. When we stayed here before, most of the snowbirds pulled out in April and the pickleball activity was finished. We planned on heading down to Sun City (Menifee) around 11:30am to visit my step-dad, Ken, so I didn't go to the pickleball courts.
Also, it was pretty windy and cool. The temperature never went above 65 degrees for our entire stay here – about 20 degrees below average for this time of year. We rode the Spyder to Sun City and arrived at Ken's place around noon. His cleaning lady was there, so we sat in his TV room and talked until she finished her deep cleaning of the house. She had been at it since 7:15am and spent five and half hours cleaning.
We drove in Ken's car to a Chinese restaurant for lunch. Ken generously bought our lunches and we enjoyed talking while we dined. We headed back to Hemet around 2pm. On the way back, we made a stop at WinCo foods to pick up a few items. When we stayed here before, we always shopped at Stater Brothers – I didn't know at the time what a great supermarket WinCo is. I found a 22-ounce bomber bottle of Stone Tangerine Express IPA for $4.12 – bargain!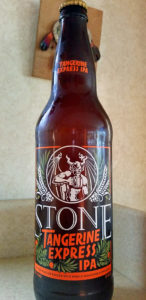 Donna planned to have her friend, Connie Kippycash, join us for dinner on Tuesday evening. Unfortunately Connie was suffering from a sinus infection and had to cancel. So we just relaxed and had leftovers for dinner. It looked like rain was imminent, so maybe it was best to relax indoors.
Wednesday morning Donna and I hit the pickleball courts. There was only one other player so we played a couple of games where we rotated through a two-on-one game. After about an hour, another player arrived and we played a couple of doubles games. They were older and the level of play had me holding back. It was fun nonetheless.
Wednesday evening I grilled herbed boneless, skinless chicken thighs on the Weber Q.  When I was younger, I always preferred the white breast meat. Nowadays I find the dark thigh meat to be juicier, tender and more appealing. Donna served it with a medley of roasted baby squash with feta cheese and quinoa.
This morning I need to pack a few things in the trailer – the grill and grill stand, a few chairs and the Spyder. We're not in any hurry. Our drive will take us north through San Bernardino and over Cajon Pass. We plan to stop at the Elks Lodge in Palmdale – about 100 miles from here. Tomorrow morning we'll continue north to Coarsegold in the Sierra Nevada foothills near Yosemite National Park.
I don't want to delay our departure here too long – the Elks Lodge is first come – first served. I made a reservation at the Escapees Park of the Sierras campground yesterday. We'll stay for one week. At first, the woman on the phone told me they didn't have any sites available for a rig of our size. Then she had me hold for a couple of minutes and told me she had one site, but we would have to drop the trailer away from the site. She asked me if I wanted to do that. I told her it wasn't ideal, but we'd take it.
After I gave her my check-in information, she asked me if I write a blog. I said yes. She said you just went to Hemet, right? And you're an avid pickleball player and your wife is Donna. I was stunned. I laughed out loud when she told me she had been following this blog for quite a while. We plan to get together for pickleball after we arrive. I was so surprised at the chance encounter that I failed to ask her what her name is!
After three cool, cloudy days, today we have abundant sunshine. The temperature should reach 80 degrees today and the next week in Coarsegold should be in the upper 80s. Sounds good to me!