Tonight will be our 13th night at the SKP Park of the Sierras and I'm still not sure if I have the name right. The website for the park is titled Park of the Sierras but it has a photo of the entrance to the park which has a sign that reads "SKP Park Sierra."  Most of the signage in the park says Park Sierra and there is at least one that says Park of the Sierra – not Sierras. Anyway, we've enjoyed our stay here. The weather has been nice – mostly warm to hot sunny days and cool nights.
We've had a chance to explore the area a bit and visit Yosemite National Park and Bass Lake. We've also spent a lot of time on the pickleball court. A new pickleball court will be built in the fall – the ground has been prepared but it needs time to settle before concrete is poured. The temporary court brings some challenges with uneven surfaces and a few tar patches, but it's fun to play nonetheless.
Melinda Thomas and Joe Milligan are spearheading the pickleball project here. We had a great time playing pickleball with them and also with CJ Walker.
We met CJ and her husband Art when we were at Jojoba Hills a couple of years ago. They're fellow Alpine Coach owners. On Monday evening, they hosted happy hour at their site – it was BYOB and everyone brought hors d'oeuvres to share. It was a good time – Melinda and her husband Mike and Joe were there. We also met another couple named Louanne and Gordy.
Yesterday I rode the Spyder to Raley's grocery store in Oakhurst. I picked up a few things, including large chicken breasts with rib bones and skin. Donna marinaded them with olive oil and lemon juice then seasoned them with fresh herbs and garlic. I grilled them.
The package claimed the chicken was hormone free, but these had to be some big chickens! Donna served it with sauteed zucchini, asparagus, peppers and onions, sun dried tomatoes and fresh basil.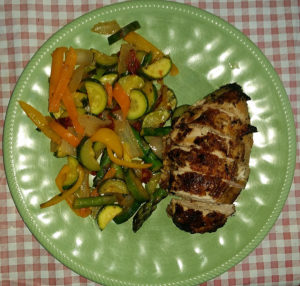 We played pickleball again this morning and got three games in before enough rain drops fell to wet the court surface. A light rain is falling as I type this. Later this afternoon we'll prepare for travel. We plan to pull out tomorrow morning and head to Sacramento where we have reservations at the Cal Expo RV Park – about 180 miles from here.
We plan to stay in Sacramento for four nights. Donna is looking forward to bicycling along the American River on the Jedediah Smith Memorial Trail. From there, we'll continue north and make our way to Arlington, Washington. We haven't settled on our route – we'll work it out as we go. Our destination is my daughter Alana's driveway. We want to be there on the 10th of June. We'll mooch-dock in her driveway and stay for our granddaughter Lainey's graduation.
The rain should clear up later this afternoon. If the windshield cover dries, I'll stow it today, otherwise it'll have to wait until the morning. Likewise I'll dump and flush our tanks this afternoon and get a head start on hitting the road in the morning. The weekend forecast for Sacramento calls for warm days with highs near 90 degrees and cool nights with the lows in the 50s. No rain is expected.