It remained cloudy but the rain stopped falling Wednesday afternoon. Our friend and neighbor, Joe Milligan, lent me his golf cart so I could transport our grill, chairs and table down to the trailer which was parked near the clubhouse in the dry camping area. I straightened up the trailer and made it ready for travel. Meanwhile, Donna washed two loads of laundry in the Park of the Sierras laundry room.
They have a policy of no onboard laundry when you're in the park. I'm told there is an issue with lint build-up in their septic system. I have a hard time believing this, but maybe their system is undersized for the number of hook-ups. I don't know, but I've lived in three houses that were on septic systems and we did laundry daily. They have a separate waste water system for their laundry room and we abided by the rules.
For our final dinner in Coarsegold, Donna prepared fish with crispy tarragon bread crumbs, spinach and sweet onions with tilapia filets we had in the freezer.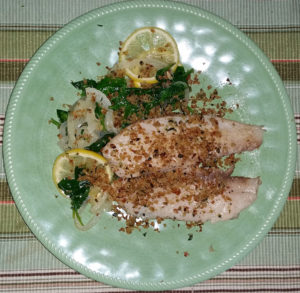 I paired it with an IPA called Aurora Hoppyalis from Karl Strauss Brewery in San Diego.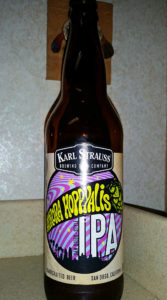 As we prepared to leave Thursday morning, Ozark the cat did her disappearing act. She doesn't like travel days and lately, when she knows we getting ready to hit the road, she hides. I don't get too worried about it because pulling the bedroom slides in expands the space behind the slide if that's where she's hiding. If she's behind the sofa, it moves with the slide so she's okay there too. Once we stop and shut off the engine, she'll come from her hiding place. She's done this at fuel stops before and Donna puts her in her crate then. When we reach our destination, I won't put the slides out until I know where Ozark the cat is. If she's in the wrong place, she could be crushed by the movement of the powerful hydraulic slide.
We hooked up the trailer, loaded the Spyder and left around 10am. Our route took us back toward Fresno on CA41. About 14 miles down the road, we turned west on CA145 and followed it to Madera. This took us through large cattle ranches and pistachio groves. In Madera, we found CA99 and headed north through the San Joaquin Valley.
Most people think of California as the land of beaches and Hollywood or maybe the Sierra Nevada mountains and Lake Tahoe. But the central valley is mostly agricultural. It's roughly centered in the state and lies slightly diagonal from north-northwest to south-southeast. The southern portion is called the San Joaquin Valley and the northern end is the Sacramento Valley.
This is mostly flat land in a valley that's approximately 60 miles wide – bordered on the east by the Sierra Nevada foothills and on the west by the Coastal Range. The valley is about 450 miles long. It's prime farming land and California is the main source in the USA for crops such as lettuce, grapes, tomatoes, sugar beets, peaches, asparagus, artichokes and avocado. California is nearly the exclusive source in the USA for almonds, apricots, walnuts, prunes, broccoli, pistachios, kiwifruit, dates, figs, olives and nectarines.
North of Madera, the pistachio groves gave way to almonds and walnuts. We stopped at a rest area near Turlock. Rest areas are few and far between on CA99 – this was the only one we saw between Fresno and Sacramento. The scarcity of rest areas made this one a popular stop.
Traffic was stop and go from Atwater to Stockton due to road work. Once we reached Sacramento, we followed the I-80 Business Loop across the American River to Exposition Boulevard. After one false turn, we found the Cal Expo RV Park at the end of Ethan Way.
This park is nothing fancy – it's basically a gravel lot with hook-ups and not much in the way of amenities. We have a 50 amp full hook-up site that accommodates our length without dropping the trailer. The draw here is the location. We are a couple hundred yards away from the American River and the Jedediah Smith Memorial Trail runs right outside the park. This is a paved multi-use trail with no motorized traffic. At $40/night, it's pricey for what it is, but we'll spend four nights here giving Donna a chance to take some long bicycle rides in preparation for her ride across Iowa in late July and we'll explore a bit. For comparison, in San Diego at Mission Bay, we paid a monthly rate of $925 – just under $30/day including utilities. In Coarsegold, our first week was $62 with a special discount for first-time visitors plus we paid $28 for electricity. After the first week, we paid a daily rate of $26 including electricity. Our total campground costs for May were $708 – just under $23/day.
I lived a few miles from here when I was a kid – from second grade through fifth grade. Cal Expo is the site of the California State Fair and we always came here for the event. It might be fun to take a look at the old neighborhood.
Last night, Donna's friend Lisa Montanaro drove down from Davis and they went out to dinner at Seasons 52. I stayed home and dialed in the satellite dish and had leftovers for dinner.
The weather forecast is calling for upper 80s and low 90s for the highs over the next five days with little chance of precipitation. The 50 amp service here will be useful – we're sure to be running the air conditioners.