We did some sight seeing on Thursday afternoon. We rode the Spyder out East Chewuch Road past the Pearrygin Lake turn-off, then crossed over the river to West Chewuch Road. We continued north past Boulder Creek and Eightmile Creek until we found the aptly named Falls Creek.
Falls Creek flows from the west and empties into the Chewuch River. There's a trailhead on the west side of the road north of the bridge over the creek. About a quarter mile up the trail there's a waterfall. It's an easy hike with the trail partially paved.
It was warm out – the temperature was in the upper 80s. Near the falls it was much cooler as spray from falls evaporated and cooled the air.
There's another waterfall higher up trail, but you need to be prepared to scramble up a steep climb. We didn't wear appropriate shoes for such a climb. We started up the trail but it was too steep and slippery, so we gave it up figuring it wasn't worth risking a fall.
Later Donna prepared wild Alaskan sockeye salmon. She simply salted and peppered the filet, added sliced lemon and I grilled it on a cedar plank. The plank had been soaked in water for a couple of hours.
I grilled the salmon at about 350 degrees for 17 minutes or so – it reached an internal temperature of 130 degrees before I removed the fish from the plank.
Donna served it with grilled fresh garlic scapes and sauteed kale and garlic. It was a tasty dish.
The evenings cool quickly and our picnic table in site 11 is shaded by a large tree – so we dined outdoors.
Friday was another warm day – upper 80s again. Once again we headed out on the Spyder leaving Pine Near RV Park around 11am. We headed southeast from town out Twin Lakes Road then west on Patterson Lake Road. Our destination was Sun Mountain Lodge – a resort overlooking the Methow Valley. The views are spectacular.
We had lunch on the outdoor deck at the Wolf Creek Bar and Grill in the lodge. It was shaded and pleasant outside. The lodge has a great taxidermy display that came from the estate of a local resident after he passed away.
On the way back into the valley from the lodge we stopped at the Winthrop National Fish Hatchery.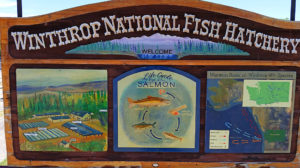 We met a docent that gave us a tour and told us about the history of the place. He and his wife are full-time RVers and workcamp at the fishery. They work 20 hours a week – five four-hour days and live in their motorhome with full hookups at the hatchery for four months during the summer.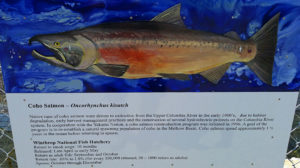 This hatchery doesn't allow as much access to the fish runs as the hatchery we visited in Branson, Missouri. It does have a viewing area where we saw large Chinook salmon that had returned to their birth place after a few years at sea. It's amazing that they can make the 600-mile fresh water journey upstream to reach the hatchery from the Pacific Ocean. Over 1100 salmon returned in June. After the fish spawn, they are allocated to two Native American tribes in the area.
The tour included a cup of fish food for each of us to take to a holding pond where we fed the trout in the pond. There were some large trout along with hundreds of smaller fish.
After we returned, Donna braved the heat and went out on her bicycle – she put in 16 miles out Wolf Creek Road.
For dinner, Donna had marinated a pork tenderloin with her mojo marinade sauce. I grilled it along with two ears of corn on the cob still in the husks. I soaked the corn for about 20 minutes and removed the cornsilk before I put it on the grill. I grilled the pork tenderloin and corn for about 22 minutes at about 350 degrees – turning the tenderloin.
Donna fixed an Asian chopped salad for a side with the pork and corn.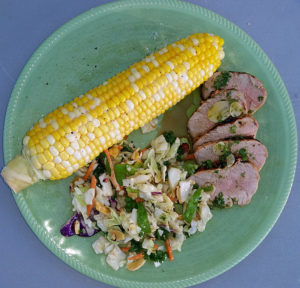 Once again we dined outdoors in the shade.
Donna found pickleball in Winthrop! She found a schedule for open play at the skating rink where they play on Tuesday, Thursday and Saturday. Too bad we didn't know earlier, we would've played. We had to settle for Saturday only.
The skating rink is an outdoor affair with a large, smooth and level concrete pad next to a large clubhouse. It has pickleball courts lined out for up to six courts. We assumed it was an indoor rink and didn't know until we arrived and saw the nets being set up outside. We climbed back on the Spyder and made a quick run home for hats and sunglasses.
They had three courts set up when we returned a few minutes after 9am. The fee for drop-in play was $3/person. We met some really nice people and played until noon. Now we know – next time we're here I'll play as much as possible.
The Pine Near RV Park is filled to capacity with people enjoying a four-day holiday weekend. There are more families with kids than I've ever seen here. It's a little rambunctious in the evenings. It gets dark so late that the kids are still running around after 10pm. By 11pm the park is quiet though.
Today I'll start prepping for the road. We'll pull out of here tomorrow and head east to Coeur d'Alene where we're hoping to find a spot at the Elks Lodge. They don't take reservations so we have a back-up plan as well.