We had a great Fourth of July – I hope yours was equally enjoyable.
On Monday evening, I saw a picture on Facebook of my San Diego friend Gary Stemple wake surfing. I could see he wasn't in Mission Bay and I had a suspicion the picture was taken on Lake Coeur d'Alene. I commented on Facebook and sure enough, he was here staying at a house on the lake owned by his aunt Phyllis.
We made arrangements to meet on Tuesday afternoon. Gary's cousin Kim spends the summer at the house on the lake with her twin daughters, Madison and Mackenzie. I got directions to their place and after lunch Donna and I headed out on the Spyder.
Lake Couer d'Alene stretches north to south about 25 miles and is one to three miles wide in most places. The lake is primarily fed by two rivers – Couer d'Alene River and St. Joe River. On the north end of the lake is the town of Couer d'Alene and the lake empties into the Spokane River there.
Their house on the lake is located roughly half way down the west side of Lake Coeur d'Alene at Black Rock Bay (map). It was about a 23-mile ride on the Spyder from the Elks Lodge in north Coeur d'Alene.
When we arrived, we parked in the back along with several cars. The house and deck were filled with family members, neighbors and friends. Donna and I were introduced to a number of people – there's no way I can remember all their names.
After giving us a tour of the place and wetting our whistles with a cold beer, Gary and I took the jet skis out for romp around the lake. The jet skis were fun – almost like riding a dirt bike. I got a real workout jumping the swells and wakes on the lake. We made a big loop – first we went south then we crossed the lake and headed north before we crossed back again and came back to the property. In areas of flatter water, I hit speeds up to 46 mph – that really feels fast on a jet ski!
Later Madison and Mckenna along with their friend Abbie took the jet ski and headed out. I wasn't aware of their plan – I just knew that Donna and I were joining Gary, Kim and her neighbor Kenley for a ride in their ski boat.
We crossed to the east side of the lake enjoying the ride and the views. We entered the Couer d'Alene River and made our way upstream.
We went a few miles upriver to the Anderson Lake Road bridge where we found Madison, Mckenna and Abbie up on the bridge – they had come here on the jet ski.
Madison jumped performing a forward flip. Mckenna and Abbie stayed put but Madison wasn't done yet. We saw a guy swing on a rope from the bridge like Tarzan and jump into the river. Madison had to give that a try.
In fact, she did it twice and I shot a video of her second swing – unfortunately I'll need to install software to edit the file, it's too large to post it here.
After Gary and Kenley cooled off with a quick dip in the water – it was in the upper 80s – we headed back down river. Gary wake surfed behind the boat for a while on the way down. We stopped when we saw a man and a boy stranded on their jet ski. They had sucked up some aquatic plant matter in the water inlet. He was able to clear it and they were on their way so we continued on.
We entered Lake Coeur d'Alene at Harrison Slough and went through the channel around the point toward the little town of Harrison.
The town was named after President Benjamin Harrison and once had a lumber mill and was also a supply point for mining operations – it was incorporated in 1899. Only a few hundred people live here. We were heading for the gas dock at the marina there.
The marina and town were hopping with holiday revelers. I'm sure the visitors outnumbered the residents by a factor of at least two-to-one.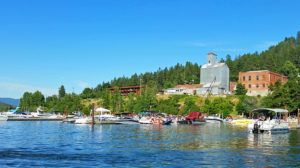 There was a line up at the gas dock and we had a bit of a wait.
After gassing up the boat, we tied up at a visitor's dock behind the bar and restaurant at Gateway Marina. We took a walk into town for a cold one at One Shot Charlie's. This was a favorite watering hole for Kim's parents and their parents as well.
We took our drinks in plastic cups and walked to Harrison Park where a band was performing on an outdoor stage. It was the Jam Shack band, a local favorite for lakeside clubs.
From there Kenley took the helm and brought us back past Black Rock to Kim's place.
We were invited to stay for dinner and even spend the night if we wanted to. We had a great time with some very generous people – but we thanked everyone and declined the offer. I wanted to get back through town before it got dark and the fireworks and craziness started. Also, I wanted to be sure Ozark the cat had food and water and wasn't freaking out over the fireworks.
Today we expect the temperature to reach the 90s. Donna's been out on her bike since about 9:30am. I puttered around trying to figure out why my coolant temperature reading was erratic but haven't come up with anything yet. I also met the owner of a unique coach, but that's fodder for another post.
We'll pull out of here tomorrow morning and head to Montana – maybe as far as Butte. I'll have to figure out our destination tonight.