After an uneventful night dry camping at Cabela's in Mitchell, we packed up and continued east Friday morning. We could've gone south about 10 miles and hit SD42 – a two-lane country road through farmland but I got on I-90 instead. The country road would have been more scenic and it would have taken us directly to the entrance of Tower RV Park – our next destination – but I wanted to make a short detour on the way to stop at Blue Beacon Truck Wash on the northside of Sioux Falls.
Our coach and trailer were badly in need of a wash after driving through the construction zones on US212. Blue Beacon is a chain of truck washes specializing in big rigs. They mainly do commercial tractor-trailer rigs but also have pricing for RVs. There was a line of trucks waiting to enter one of the two wash bays, so we had a bit of a wait. We were only traveling 70 miles, so I didn't mind waiting for a wash. I had the full wash on the coach and trailer including a Rain-X treatment. The cost was $70 and I think it was money well spent.
I had viewed the entrance to Tower RV Park on Google Earth, so I knew I couldn't enter directly from eastbound SD42 – I had to go through a neighborhood to get us turned around and enter from the westbound lane. Check-in was quick and efficient. We were assigned site 309, a back-in site where we had to drop the trailer first. The paved pad was large enough for us to drop the trailer and back the coach in next to it.
We checked in around 2pm and there were several open sites in the park. By 6pm that was no longer the case – the park was completely full. The park is convenient to I-29 and only a few miles from I-90. Saturday morning a few of the rigs pulled out after a one-night stop, but by Saturday afternoon the park was at full occupancy again. Even with the park full, it's a quiet place. Well, there's some road noise from I-29, but the constant chatter of cicadas nearly overrides it!
We chose to stay for a week here due to the location. We are about half a mile from the Sioux Falls Bike Trail which follows the Big Sioux River. Donna rode a about 25 miles on Saturday and about 20 miles again on Sunday. Heat is an issue – it reached 95 degrees on Saturday and about 90 degrees on Sunday. Donna is out riding this morning and plans to do a long ride of over 40 miles. She'll take a day off the bike tomorrow, then ride Wednesday and Thursday before taking a break as we head out to Orange City, Iowa on Friday. On Sunday, she'll start the RAGBRAI course which will take us across the state to Lansing, Iowa.
When Donna returned from her ride on Sunday, she told me she saw what appeared to be race cars at the fairgrounds about a mile from here. So after lunch, I rode the Spyder over to the fairgrounds and saw an autocross course had been set up in a large parking lot. Autocross courses are typically very twisty and are laid out with plastic cones. This course was relatively long with some very tight turns. There were more than 50 competitors. The skill level and equipment varied. Some were quite quick, others not so much. Each car runs solo racing against the clock to complete the course – there's no wheel-to-wheel racing.
The average time to complete the course was in the upper 80-second range – 85 to 88 seconds by my reckoning. A couple of cars took over 100 seconds – these were driven by novices. The quickest car there was a Porsche 911 Turbo S. This car costs nearly $200,000 and boasts 580 horsepower. It was the only high horsepower car there to turn very quick times. Other high horsepower cars such as Corvettes and Camaros struggled for grip through the tight sections. Driver skill played a big part undoubtedly. The 911 Turbo S turned a quickest time of 73.0 and made several runs in the low 74s with a different driver. The only other car to run sub-75 seconds was a Honda S2000 that turned a 74.9 lap. This car handled well and had a skillful driver that was very smooth on the course.
I hung out for about an hour and a half before I decided to get out of the sun. While I was out, I made a stop at the liquor store.
I figured I would want to have a bottle of Scotch in the liquor cabinet so I could have a dram or two when we cross Iowa. I get spoiled by the price of liquor in California – it's so much cheaper than just about anywhere else. Here in South Dakota, a 750ml bottle of Glenmorangie Single Malt Scotch is $44 – in California I could get it for $10 less.
The liquor store had a special on a Glenmorangie Highland Single Malt Scotch that included a 750ml bottle of The Original and two 50ml sampler bottles containing The La Santa and The Quinta Ruban. The Original Glenmorangie Highland Single Malt Scotch Whisky is aged 10 years in oak casks that are sourced from forest land they own in the Ozark Mountains. They lease the casks to Jack Daniels and Heaven Hills to age bourbon for four years. The casks are then shipped to Ross-Shire, Scotland to age the Scotch whiskys.
The La Santa is what Glenmorangie calls an Extra Matured whisky. The whisky is transferred into a cask that sourced from Spain where it originally held sherry. It's aged for an additional two years and picks up flavor and complexity from the wine cask. Glenmorangie pioneered this technique in the 1990s – many other distilleries such as Balvenie started doing this around 2000.
The Quinta Ruban is similarly transferred to a secondary cask – in this case it's a cask that held port wine before. The 50ml tasters are about 1.7 ounces – just enough for a sipper.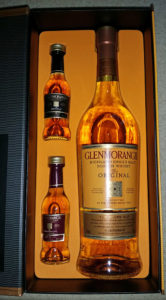 Highland Scotch like Glenmorangie, Glenfiddich, The Glenlivet and so on are typically very smooth and somewhat dry. Some Scotch afficionados prefer a more peaty or smoky profile and consider these Highland varieties to be an entry level whisky lacking complexity. I don't care – I know what I like and it's not an Islay Scotch full of smokiness.
The forecast calls for another hot day with a high of 95 degrees before it cools down to a more normal temperature in the mid-80s. I have a short list of things I want to get done before we move out of here. Donna's main goal is getting her training rides in before she tackles the 411-mile ride across Iowa.