The start of RAGBRAI was coming on fast on Saturday. If you don't know what RAGBRAI is, please see my previous post. Donna and Deb Spencer took a walk to town with Jeff and Deb's wire-haired fox terrier, Sam on Saturday morning. They met up with the rest of Team RV There Yet? at the RAGBRAI expo downtown. I rode the Spyder into town and met up with them around 11am. We wandered around the downtown area and checked out all of the vendor booths.
Orange City has a Dutch heritage – orange is the color of the Dutch Royal Family, even though their flag is red, white and blue. The Dutch influence is obvious throughout the town. Streets have Dutch names and many signs are written in the Dutch language.
We checked out the vendors and had lunch at a place that was named one of the 100 places in Iowa where you must eat before you die –  Woudstra Meats.
One of the traditions for RAGBRAI is to dip your bicycle tires in the river at the start of the ride and dip them again at the finish in the Mississippi.
The expo had live music – we saw two stages with bands playing and they were good. At 4pm I went to a presentation for support vehicle drivers and got an idea of what to expect.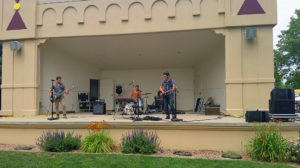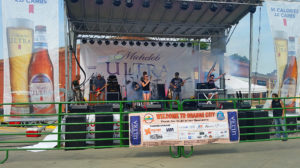 The high school parking lot where we're camped was filled to capacity by Saturday afternoon. This wasn't too surprising. What surprised me was the grass lot across the street from our location. This was a large grass lot that appeared to be property of a company there. It was empty when we arrived. By Saturday evening it was a tent city!
Sunday morning we were up early. I felt well rested – I was so tired when I went to bed Saturday night. Donna had her alarm set for 5:45am . I woke up minutes before it sounded. She had the little rooster crowing again – I love that alarm!
True to form, Jeff Spencer was onsite at 6:30am and Team RV There Yet? was ready to roll. I had the rig ready and was ready to roll out about 10 minutes later. Ozark the cat knew something was up and went into hiding.
It was an easy drive of about 61 miles. I found the fairgrounds with Fred right behind me. At the entrance I was told that I could have electricity and water for $20. I paid for it. Then I went to the northwest area where I was told to go. What I found was a large grass area with electrical pedestals every 100 feet or so. The pedestals had half a dozen 30 amp receptacles. Water spigots were even farther spaced. Half of the grass lot had chalk lined spaces. I went past that to an open grass area and parked next to a power pedestal. I was the only one in this area and hoped I wasn't breaking rules. Within 30 minutes I had rigs all around me. Most of them didn't have long enough power cords to reach the pedestals. I couldn't reach a water spigot.
I found Deb Spencer less than a 100 yards away. After saying hi, I came back and saw a police car behind our coach. I wondered if I was parked illegally. When I walked behind our coach I saw the issue – the short bus with the bull horns we saw in Orange City was parked by us. A rental RV had collided with it. I'm not sure how this happened – there was plenty of open space.
I rode the Spyder back along our route to Primghar – the designated meet up town on today's route. The crazy thing is I got there and parked the Spyder – then I saw a text message from Deb Spencer telling me where Donna was about two blocks away!
We found each other and had rib eye sandwiches with Jeff and Tom – eight dollars for a rib eye sandwich, chips and a bottle of water – benefiting the local fire department.
I blasted back to the fairgrounds and we waited for our riders to arrive. Deb, Fred and I took chairs into a shady spot and watched riders come by. We had an idea from a couple of text messages where Jeff, Tom, Donna and Geoff were. We saw several interesting bicycles – recumbents and a penny-farthing high wheel bike!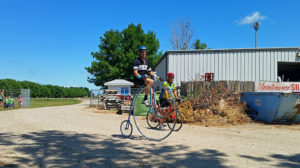 Meanwhile I prepped babyback ribs that Geoff bought in Orange City. Iowa is the place to get first rate pork. I broke out the Traeger. Donna made an Asian cole slaw and cornbread, Deb brought a salad, sweet potatoes, and watermelon, and the guys brought chocolate chip cookies. It was a nice meal to end the day.
Tomorrow is a longer ride of 73 miles. The weather took a turn for the better – Saturday was hot with high humidity but the humidity dropped by the evening. Sunday's ride had cooler temps by 10 degrees or more, much less humidity and mostly favorable winds. Fingers crossed for this to continue.