It took us a little longer than expected to pack up and head out of Bayard, Nebraska. It was after 10am by the time Donna returned from her bike ride. We pulled out at 11:30am Tuesday morning, but we only had about 150 miles to go to Cheyenne. We followed back roads and stayed off I-80. Our route took us along US26 to Torrington, Wyoming, then we headed down US85 to Cheyenne.
We found the Sierra Trading Post without any trouble and parked in their dedicated RV/Truck lot. I checked in at the warehouse office – all they ask for is a name and contact phone number in case they need to reach us for any reason and we were good to go. There were a few other RVs in the lot when we arrived.
Donna and I walked to their outlet store and shopped around. I didn't find anything interesting and left after about half an hour. Donna stayed and tried on clothes – that stretched into two hours. Later Donna walked to the Walmart Super Center about a mile away to pick up a few items. I hung out and read a book. By 5pm, we were the only RV left in the lot. There was more train traffic overnight than we remembered from last year, but we both slept well.
On Wednesday morning, I pulled up to their dump station and dumped and flushed our tanks, then we were off to Colorado. We hit I-80 west for a few miles then turned south on I-25. Traffic was light. I stopped at the Pilot/Flying J Travel Center at exit 7 in Wyoming to top up our tank then had the coach and trailer washed at the Blue Beacon there. The coach was dirty from the dusty trip across Iowa and the thunder showers in Nebraska. We only took 40 gallons of fuel, but I wanted to top up the tank to get us through Colorado. There aren't very many Pilot/Flying J truck stops in Colorado and most of them are in the Denver area where I would prefer not to pull off the interstate.
Our destination was the Boulder County Fairgrounds in Longmont, Colorado. They have 92 RV sites there. Eight are long pull-throughs. Several other sites in the park are also pull-throughs, but they are too short for our rig. The sites ringing the outer boundaries of the park are very short back-in sites. All sites are first-come first – serve, no reservations. Stays are limited to 14 days per year.
When we arrived, we found the check-in process to be a little confusing. I parked in a large dirt lot across from the "office." The office was un-manned and had a sign in front directing us to find a site, then pay at the automated kiosk. I walked into the park to see if any of the eight long pull-throughs were open. Meanwhile Donna found a park ranger who suggested we use site 1 – the longest pull-through they had. It was open! We paid for five nights using a credit card at the automated kiosk and we set up in site 1 in no time.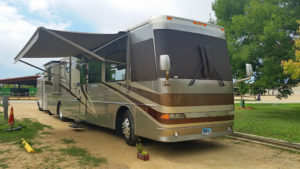 I lived here in Longmont 40 years ago, but I don't recognize the place today. These fairgrounds didn't exist then and highway 119 – the Diagonal Highway between Longmont and Boulder – is unrecognizable. Back in the day, it was a rural two-lane highway through the countryside. It passed by a small village called Niwot. Today it's a divided four-lane highway with shopping centers lining the highway through Longmont. Suburban sprawl lines the roadway with some farmland through Niwot all the way to Boulder.
We rode the Spyder to Bicycle Village in Boulder where Donna picked up her participant packet for the Venus de Miles women's century ride. She raised over $500 for the charity event being held this Saturday. In her packet was a $20 gift certificate from the bike shop. She ended up buying a new pair of bicycle shoes – they were on clearance and with her gift certificate she paid $80 for a pair of $180 Pearl Izumi shoes. I'll install the cleats on them today.
While we were out, I stopped at the Whole Foods Wine and Spirit shop. I splurged on a bottle of Balvenie Double Wood single malt Scotch whisky. This is a real goody that I'll reserve for special occasions.
We were hit by a few drops of rain on the way back, but avoided any real rainfall. We had a quiet evening and I think we'll enjoy our stay here. It's remarkably quiet to say we're right in the city. I think we'll end up extending our stay by a couple of days to a full week. It's $25 per day for electric and water – no sewer hookup, but there's a dump station here.
The forecast calls for mostly sunny skies with highs in the upper 80s for the next week. There's always a chance of a thunderstorm at this time of year. Typically you'll see clouds building over the Rocky Mountains to the west all afternoon before they push east, sometimes bringing thundershowers with them before the blow east over the plains. Longmont is northeast of Boulder which sits at the foot of the Rockies. Boulder is at an elevation of about 5,700 feet above sea level. The Flatirons tower over Boulder at a height of 8,000+ feet above sea level. The mountains are spectacular.
Today Donna has a lunch date with a friend in Loveland – about 27 miles north of here. She'll ride the Spyder there. I think I'll take a walk to the mall about a mile from here. I need to stop at the bank and I'll take a look around. Maybe later we'll head over to Left Hand Brewing which is nearby. They brew some really fine beer there.