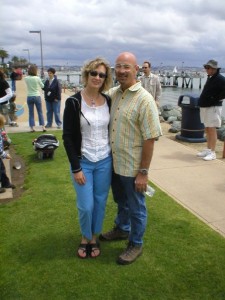 We are Mike Kuper (aka Koop) and Donna Smallin Kuper. We met as bicyclists in Phoenix in 2005 and married in 2006. Since then, we've toured 22,000 miles together on our motorcycles and traveled via plane, bus, boat and train throughout Europe.
Koop spent the past 35 years in the automotive industry and took an early retirement effective August 1, 2013. Donna is a best-selling author and spokesperson specializing in decluttering, organizing and simplifying life. (You can learn more about her at www.unclutter.com.)
In the fall of 2012, we got the idea of buying an RV and using it to visit friends and family from our current home base in Michigan. At the time, we thought Koop's retirement would be about 18 months away, but plans have a way of changing. We found and bought a motorhome that we both really liked. We started researching the full-time RV lifestyle and decided it sounded right for us. Then a note was left on our front door one day; a woman wanted to buy our house and we hadn't even listed it for sale yet! Whoa…this plan was taking on a life of its own. Fast forward to July 2013 — the house is sold, we are selling the rest of our "stuff" and will hit the road by July 23rd.
The intent of this blog is to give friends and family an easy way to follow our travels and also to share the experience of jumping into the full-time RV lifestyle with anyone who's interested. We'll try not to sugar-coat things; we'll share the good, the bad and the ugly. Come along and enjoy the ride!
We learned much in our first six months on the road. You can read about our progression to full-time here.
Click here to take a virtual tour of our Alpine Coach.