Donna and Sini planned to go to a house concert on Saturday. House concerts are an interesting concept. The host opens their home for the performance and will usually offer local transportation and lodging for traveling musicians. People attending the concert bring food to share and, in this case, pay $20 each which goes to the performer. About 30 people attended the concert.
We used Alana's car and drove down to Edmonds where we met Sini for lunch. We had lunch at Ono Authentic Hawaiian Poke. I had an episode that ruined lunch for me. I chronicled my battle with throat cancer in an earlier post and won't rehash it here except to say I have permanent damage from radiation treatments. It left me with a chronically dry throat.
Sometimes when I swallow food, it becomes lodged in my esophagus. This was one of those times. I had a piece of fish caught in my throat. It was terrible. I excused myself and went outside the restaurant. It was painful and I knew there were only two possible outcomes – either the fish would continue to move down to my stomach or it would be expelled. After about 10 minutes of hiccuping, it moved on and I was able to finish my meal.
Donna's plan was to go with Sini to the concert, then spend the night with Sini at her friend's house. Sunday morning Sini was going to the Tulalip Casino with a friend at 11am and I met them there and then Donna and I made a stop at Best Buy where she bought a new laptop.
I wanted to watch the Moto GP race from Assen but my satellite reception failed in the night and the program didn't record. Luckily there was an encore showing of the race at 1pm. I started packing the trailer, then took a break to watch a very interesting race. It was about 100 degrees in the trailer but I managed to get it 90% packed and figured I would finish up Monday morning when it would be cooler before we headed out.
We were invited to have dinner at LuAnn's house at 6pm. LuAnn had spicy shrimp and crab legs as the main entree and a large selection of veggies from her garden to make salads.
I brought along a bottle of IPA called Crikey from Reuben's Brewery in the Ballard district of Seattle. I hadn't tried this one before, but I liked the name. It wasn't anything special, just a typical west coast IPA.
We sat in the backyard until the mosquitos started biting – the sun doesn't set until well after 9pm this far north at this time of year. Back at the coach, I watched the Formula One race from Azerbaijan which I had recorded during the afternoon.
Monday morning I finished packing the trailer and we headed out by 10am. It's always a little sad to say goodbye, not knowing when we'll be back to see my daughter and grandchildren again. We know we'll be able to see Lainey when we return to San Diego in October – she'll be there attending college at San Diego State University.
We went west on WA530 to the truck stop at Island Crossing. I wanted to top off the tank as I didn't think we would have an opportunity to fill up until we were in the Spokane area. The fuel price was very reasonable at $2.49/gallon.
Then we drove east on WA 530 up to Darrington where WA530 hooks north to Rockport. At Rockport we hit WA20 – the North Cascades Highway. This highway snakes its way along the Skagit River up to Diablo and Ross Lakes. It's one lane in each direction with lots of twists and turns and has become bumpy in many places. The North Cascades Highway closes in the winter – generally from mid-November to mid-May. They cannot keep the road clear of snow in the dead of winter. There are still some very big snowbanks along the road and lots of snow on the surrounding mountainsides.
Climbing up the west side of the Cascades, the terrain is rugged and heavily forested. Big, moss-covered fir trees dominate the terrain with blackberries and beds of ferns so thick you cannot see the ground on the forest floor. Once you cross over to the east side, the firs are replaced by pines and the forest opens up considerably.
We crossed Rainy Pass at an elevation of about 4,900 – we started out at 300 feet above sea level in Arlington. Then we dropped down a bit and climbed again over Washington Pass at 5.477 feet above sea level. At the summit, Donna noticed something in the driver's side rearview mirror. She pointed it out to me and I saw we had a basement door open. I pulled over and found the rear compartment just ahead of the rear wheels had popped open. I keep my portable compressor and accessories in there. Everything looked to be intact – nothing spilled out onto the highway. I always check the doors and make sure they're locked before we move. The latch was in the locked position, but something is worn and if I give the door a yank, it pops open. Hitting a bumpy section of road must have made it pop. It's on my "to do" list now.
WA20 took us directly to Winthrop. There's a four-way stop at Riverside Avenue which is the main drag through town. Going right keeps you on WA20. We wanted to go straight ahead up Bridge Street to Castle Avenue, but Bridge Street was closed for construction. We were directed to go left to the north side of town where we found the end of Castle Avenue and doubled back to the Pine Near RV Park.
Pine Near doesn't have much in the way of amenities, but it has large pull-through grass sites and is located on a bluff overlooking downtown Winthrop. Winthrop has a population of about 400 people in town with about 2,000 permanent residents in the area. It's a western themed tourist destination.
A few rain drops fell as I was setting up. The owner of the park, Anna, told me not to worry – it would pass quickly. She was right and the thermometer stayed at 89 degrees!
From Pine Near RV Park, I walked across Castle Avenue through the Shafer Museum – a collection of pioneer artifacts – and down a terraced boardwalk into town. Meanwhile Donna was working on an article – she has a few assignments to complete while we're here.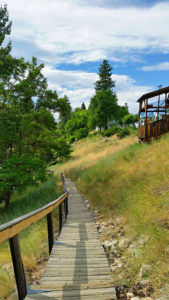 As I walked through town, I found a new plaza called Confluence Park. It's a small square with landscaping, paver stones and benches overlooking the confluence of the Chewuch and Methow Rivers.
The park was dedicated last October – it wasn't here when we stayed in Winthrop last summer. I made a stop for a cold one at Schoolhouse Brewery.
Last night I enjoyed an IPA from Elysian Brewery called Space Dust.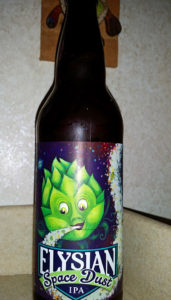 I had it with dinner in a pint glass Alana gave me as a Father's Day present.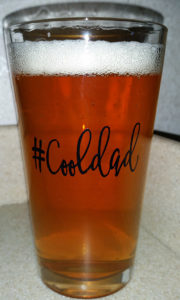 Around 9pm, I stepped outside and shot a photo of a pink sunset.
This morning I walked down to the Rocking Horse Bakery across the street from the terraced boardwalk and picked up breakfast sandwiches for Donna and me. That's one of the things we like about this RV park – everything is within walking distance, yet it's still very quiet and has a country atmosphere.
We're thinking about extending for an extra day here, but that will mean we have to move to another site. I don't like making a move within a park – I have to secure everything just like I was going to head out on the road. We'll see how it works out.