With the rest of the Hearts A'Fire team heading for home Monday, Donna and I decided to spend one more night at the Hotel Elegante in Colorado Springs. Donna was able to get some laundry done in the hotel while I walked over to the convenience store and bought some drinking water.
On my way to the store, I saw a couple of interesting coaches in the hotel parking lot. They were Prevost custom conversions. I could tell they were entertainer buses – presumably a band traveling through the area had stopped for the night at the hotel. I could tell these were entertainer tour buses by the small lettering on the side indicating they were leased from Roberts Brothers in Springfield, Tennessee – a well-known provider of entertainer buses.
I wondered who it was, but wasn't curious enough to find out. At the store, the local newspaper caught my eye. On the front page was a photo from the Labor Day Lift Off balloon event featuring Hearts A'Fire taking off from the park.
On Tuesday morning, we packed up and headed a few miles north to the Elks Lodge. Our plan was to spend one night dry camping at the lodge so we could use their dump station to flush out our holding tanks and refill the fresh water tank before leaving town. We also used the opportunity to do some grocery shopping and pick up some items Donna had delivered to the Sierra Trading Post store.
While we were at it, we decided to visit Bristol Brewing, a local brewery with an interesting location. They're in an old schoolhouse. One half of the schoolhouse has boutique shops and a coffee shop/bakery while the other wing houses the brewery and pub.
Donna and I returned to the coach to plan our next move. We enjoyed a stay at Eagle Nest Lake in northern New Mexico last year but decided we wanted to explore new territory this year. Donna wanted to go to Abiquiu (Abbi-cue). We decided to head to Alamosa, Colorado across the Sangre de Cristo Mountains, then south into New Mexico.
Our trip down I-25 started off with a bang. We were driving along and went through an underpass. Just as we went through, a high-cube rental truck passed us on the left. I heard a loud boom – almost like a gun shot. I checked my mirrors and saw gray smoke on the left side of the trailer. I pulled off on the exit ramp and stopped on the shoulder – I thought we had blown a trailer tire. I went to investigate but didn't find anything amiss. I guess the sound and smoke came from the truck overtaking us.
The turbocharger on our engine was still giving me problems. The engine control module (ECM) was intermittently losing the signal from the manifold pressure sensor. When this would happen, the turbo no longer provided boost pressure and there was a power loss. Also, the Jake brake would quit working whenever we lost the boost. I knew the problem was in the wiring harness at the ECM. I had taped up the harness for better support while we were at the Elks lodge. I checked the harness and repositioned it while we were stopped. This issue would continue to plague us on the trip to New Mexico.
We left I-25 near Walsenburg and headed west on US160. This took us through the Sangre de Cristo Mountains over La Veta Pass at an elevation of 9,426 feet above sea level. Wouldn't you know it – I lost boost pressure on the climb up the pass and had to gear down to third to pull the grade. There was a Newmar Dutch Star motorhome traveling the same route that must have had engine trouble too – we overtook him on the climb.
We stopped in Alamosa and had a Subway sandwich for lunch. Donna looked up a couple of boondocking opportunities on the route to Abiquiu. Apparently we hadn't communicated clearly on the route. I intended to head south on US285 from Alamosa into New Mexico. Donna had us heading west on US17 which curves south into New Mexico.
We punched the first boondocking possibility into the GPS and I happily followed the directions. It was near Manassa, Colorado and I felt like it was a bit early to stop and wanted to continue on. The next place Donna had identified was in New Mexico – about five miles across the border near Chama. We programmed that stop and I didn't give it another thought. When we came through Antonito, I followed SR17 instead of US285 without thinking about it.
This took us over the San Juan Mountains into New Mexico. We had to climb up to La Manga Pass – this was the steepest grade we have ever encountered. Luckily our turbocharger was cooperating and I had the power needed for the climb. La Manga Pass tops out at 10,230 feet above sea level. We wouldn't have made it without turbo boost. After a short descent we climbed Cumbres Pass at an elevation of 10,022 feet above sea level.
From there, it was downhill into New Mexico and we found a paved pull-out that was level and stopped there. It's a mile and half from the small town of Chama across from a paved landing strip. It's in beautiful surroundings and there's very little traffic on SR17. We're at an elevation of 7,966 feet above sea level.
Donna went out for a walk. She didn't to go far, but she heard a train whistle and saw a sign for the Cumbres and Toltec Scenic Railroad indicating it was one mile away so she kept walking. She took a few photos along the way – they're at the bottom of this post. The Cumbres and Toltec Scenic Railroad runs on narrow gauge tracks between Chama and Antonito. This historic railroad still uses coal-fired steam-powered engines. The track runs just to the west of our boondocking spot. We heard the train pass by, but it doesn't run at night. This place is so peaceful and quiet – a welcome respite from the time recently spent in cities. I took a couple of photos before sunset – I stood on our door steps for these shots.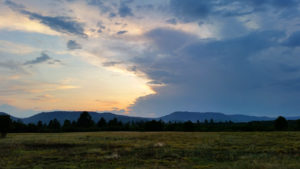 I watched the US Open Tennis tournament on TV – I've been following it – while Donna prepared cod in parchment paper with asparagus, butter, tarragon and fresh squeezed orange juice. Just because were boondocking doesn't mean we can't eat well!
Today we'll move on down to Abiquiu. The weather forecast looks good with highs in the 80s and cool nights in the upper 50s. We may have a stray thunder shower or two, but no big storms expected.
Here are photos from Donna's walk…