Thursday morning we slept in. It was after 8am when I woke up. I'm getting used to retirement! Actually, Thursday was my first official day of retirement, I was using vacation time in July. First pension check deposited to my account!
I sat at the table and posted to the blog. We planned to go the horse races at Saratoga with Donna's sister, Linda, and her husband Tom at 10am. Somehow the time got away from us and we were scrambling to get showered and dressed. We left around 10:20am. We were supposed to meet Donna's brother, Mark, his wife Miriam and daughter Michelle at 11am. We made it on time thanks to Tom's lead foot driving.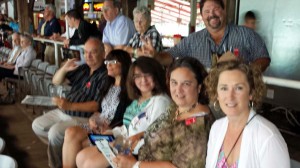 Thoroughbred racing has been going on in Saratoga Springs since 1863. The facility was built in 1864. It's a great place. We had reserved seats in the clubhouse thanks to Mark.
The first two races were steeplechase events. These are long races (2+miles) and involve the horse and rider jumping over fences. In the first race, a rider toppled from the horse on the back stretch. I hope he's okay. I picked up the racing form and studied the expert advice. I'm not in the habit of going to horse racing. It's been at least 20 years since I last attended a horse race. When I lived in San Diego, I would occasionally go to the races at Del Mar.
I played Exacta bets – this type of bet requires you to pick first and second place. I won the fourth race, but at the end of the day, I was just a contributor to the pari-mutuel pool. Donna introduced a new food to me – Montreal poutine. These are French fries with gravy and cheese curd. Very tasty. We also had Manhattan clam chowder.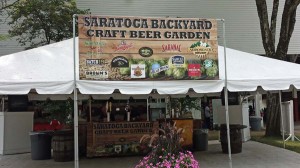 There were beer gardens at the site and live music as well. Unfortunately shortly after we arrived it started to rain and the temperature dropped. Donna was cold and left with Tom and Linda after the 6th race. I stayed with Mark, Miriam and Michelle but we also decided to leave after the 7th race.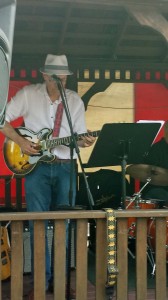 Back at the campground, I grilled Key West chicken and Tom roasted local corn on the cob. Tasty! They stopped at a bakery on the way back and picked up dessert – cannoli, eclairs and cookies.
It was a great way to kick off my retirement and I'm ready to get used to living like this.
Today we'll move to Thompson Lake.