We survived the solar eclipse. On Sunday afternoon and evening, a few more people showed up here at the city park in Bayard, Nebraska. An older Monaco Windsor class A motorhome parked next to us in the full hook-up site. A car with Texas plates parked on our passenger side and the lone occupant put up a tent in the park. Later, another car with two guys joined our new friends from Longmont, Colorado, Frazier and Debra, in the last campsite and put up a tent in their site.
The Monaco had three occupants, the elderly owner and his son and daughter. The owner – I didn't get his name – was 90 years old and bought the Monaco new in 1991. He wanted to see the total eclipse as he figured it was his last opportunity. He also figured that this trip to see the eclipse, then Estes Park in Colorado and a couple of other sites would be his last motorhome adventure with his son and daughter.
The car from Texas on the other side of us was driven by Jesus. He made the trip up from Fort Worth to capture images of the total eclipse. He had a nice telescope that he uses to observe planets and the moon and he planned to use it to make a video and capture photographs of the eclipse. He was a nice guy and just wanted to find a place off the beaten path to take his photos.
On Monday morning, a few local people turned out at the park to see the eclipse. It was very low key with maybe 20 to 30 people overall. Many brought snacks, drinks and/or lunch and sat in the grass or at the picnic tables in the pavilion.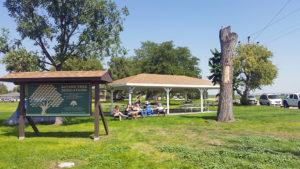 The partial eclipse began at 10:26am local time. You wouldn't know anything was happening unless you had eclipse glasses and could look into the sun to see the moon begin to cross the sun. It was a slow process and I was surprised to see how little effect it had on the amount of sunlight for the most part. Once the moon had obliterated all but a small sliver of the sun the amount of sun light noticeably decreased and air felt cooler like it does in the evening.
While we were waiting for it to happen, a few people amused us with eclipse parlor tricks. If you can catch shadows just right, you can see the crescent shape of the available sunlight in the shadows.
At 11:49am bam! – the sunlight was gone. We were suddenly in darkness but it wasn't totally dark. Although it was dark enough where we were for light sensor-activated street lights to turn on after a minute or so, on the horizon in every direction it looked like the sun was rising. This was the edge area of the total eclipse where partial sunlight was still hitting the earth. Cicadas began buzzing with the sounds of evening at mid-day. After about a minute and a half, the sunlight returned quickly. Again, without looking directly into the sun with eclipse glasses, you wouldn't really know much out of the ordinary was happening.
In the end it was a fleeting moment in time, but everyone was buzzing about it and I'm glad we were able to experience the total eclipse. I now know that being in an area with 90%+ coverage is meaningless compared to the total eclipse – like I said, up to about 97-98% you wouldn't know much was happening without looking into the sun with special glasses. In Donna's words, "It's the difference between night and day."
The park soon cleared out and the tent campers packed up and left. Jesus had a long drive ahead to get back to Fort Worth. By 4pm, we were the only ones left at the park. Earlier, before the eclipse, I had ridden the Spyder into town and paid for another night here in Bayard. In the town office I paid $10 – that makes our cost for three nights with 50amp electrical service and fresh water come out to about $3.33/night!
The grocery store in town is small but they have their meats prepared by their own butcher. Donna bought a spatchcocked chicken at the store – I wrote about spatchcock here. It was a small, presumably locally sourced chicken of about three pounds perfectly spatchcocked. I set up the Weber Q and grilled it for dinner.
Donna served it with roasted butternut squash and sauteed spinach with garlic. It was delicious – the chicken was tender and juicy.
This morning, Donna is out for a bike ride. We plan to pull out of here by 11am and make the 145 -mile drive to Cheyenne, Wyoming. We plan to stay overnight there at the Sierra Trading Post outlet – we stayed there a year ago. Then we'll move on to Longmont, Colorado where we hope to get a site at the fairgrounds – they don't take reservations.
The high temperature today in Cheyenne is supposed to be 78 degrees with clear skies and overnight it will drop into the upper 50s.
Since leaving Iowa we've been steadily gaining elevation across the great plains. Bayard, Nebraska sits at an elevation of about 3,900 feet above sea level and we'll be at 6,000 feet above sea level in Cheyenne. Longmont, Colorado is closer to 5,000 feet above sea level.