Last weekend's weather was more like Seattle than San Diego. Saturday morning was cool and cloudy with a mist in the air and a few light rain showers. On the first weekend in May, the Ho'alaule'a festival is held here at De Anza cove on Mission Bay in San Diego. Ho'alaule'a is a Hawaiian cultural festival with free entertainment, boutique vendors and traditional islander workshops.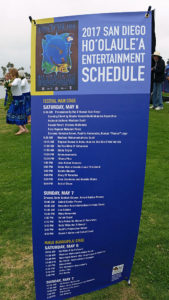 Donna, Sini and I walked over to the park to check out the festival and also get lunch from the food vendors there. We dodged a few showers and watched some of the performers.
We browsed through the vendor tents and bought lunch at a Guamanian barbeque. We found a concrete picnic table under cover to dine without fear of getting wet.
Sini wanted to change the faucet in her kitchen sink. I had tackled this task in our coach a few years ago and posted about it here. I told Sini I would change out her faucet for her. She ordered a bar type Delta faucet – it's a high looping faucet. Her current faucet is a Moen.
Removing the Moen from our coach was a major pain. While I was visiting with the Bay Park guys at Offshore Tavern and Grill, I mentioned how hard a time I had removing a Moen faucet. One of the guys, Paul, is a plumber. He told me a Moen is a piece of cake if you have the right tool. The thing is, you get the right tool in the box a new Moen faucet comes in – you can't go to the hardware store and buy one. I told him that was the problem, we weren't replacing the Moen with a new Moen, we were using a Delta faucet. He said he would loan me the tool and it would be an easy job!
I could see how this tool would make a faucet change easier – it would fit over the hollow stud that held our old faucet in place. Around 1:30pm, I walked over to Sini's coach to get started. I would be working in a confined space – her sink sits over a small cabinet. The cabinet door opening was barely wide enough for me to get my shoulders through.
As soon as I got under there, I knew I was in trouble. Her Moen faucet is an older model – it isn't fastened with the small diameter hollow stud. It has a large conduit that houses the water supply lines. This conduit is threaded and has a large brass nut on it to hold the faucet in place. The nut was 1-7/16″ and it's between the double sink basins.
I tried various pliers and wrenches and couldn't get a good enough grip on the nut. After an hour and half of struggling, I called my friend, Mark Fredin. Mark has a plumbing business. I told him what I was up against. He said he had a tool that might work. I drove to his place in Clairemont and picked up a couple of tools.
He loaned me a big basin wrench and also some plumbing sockets called tub sockets. They aren't set up for use with a ratchet, they're made to slip over a pipe and be turned with a bar or wrench.
I thought I was good to go. I was able to get the basin wrench on the nut but couldn't get enough leverage to break the nut loose. I tried the socket. I got it in place and was able to put a large channel lock plier over the end. I put everything I had into it. I felt the nut move ever so slightly. It turned out that I had moved the entire faucet base escutcheon – the nut was frozen in place. Over the years, it had developed enough corrosion to lock it in place.
Around 4:30pm, I threw in the towel. I hate to admit defeat, but I was done in. All the time I was under the sink with my upper body in the cabinet, I had my left lat (latissimus dorsi) lying across the toe kick of the cabinet. This square edged wood trim was tenderizing the muscle. After reconnecting the water supply lines and walking home, I realized how sore I was. I think it will take heat to get the nut off or maybe it'll have to be cut off. Cutting risks damaging the sink though and I'm not sure if I'm up to the task.
At 6pm, we walked down to Dave and Shannon's site for a sunset happy hour. It wasn't raining but it was windy with a chill in the air. We sat at their picnic table and had snacks. I brought a bottle of Chimay Grand Reserve Belgian Trappist ale. John and Becky were there when Donna, Sini and I arrived. We braved the weather for about an hour before we decided it would be better to relocate to John and Becky's coach and continue visiting indoors. They have a Newmar Ventana with a roomy floor plan.
On Sunday, I woke up sore and bruised on my left side. I watched the Moto GP race from Barcelona, Spain and didn't accomplish much. I spent the rest of the day reading a book. It was raining all day, so there wasn't much else to do anyway.
Monday I passed on playing pickleball as I felt like I needed to rest my shoulders. On Monday evening, Mona and Vanessa came by to visit with Donna and Sini. They planned to take a sunset kayak ride on the cove. Mona brought sushi and they sat at our picnic table to snack and visit.
It was cool out – the high on Monday was only 66 degrees – 10 degrees warmer than Sunday was. They ended up having such a good time visiting they were still at the table at sunset – so much for the kayaking.
I'm running late this morning, but I plan to head over to the Pacific Beach Recreation Center for pickleball. It's cloudy and the forecast calls for another cool day with the temperature in the low 60s.