Donna took a rest day on Tuesday after riding 85 miles over three days. She had plans to meet her friend Elizabeth Hagen for lunch. I did some light maintenance on her bike – washed it, cleaned and lubed the chain and adjusted the derailleur.
Other than that, we didn't make any plans because the forecast called for bad weather. The dire warnings of severe thunderstorms likely to hit Sioux Falls Tuesday afternoon turned out to be a false alarm as the storms stayed to the north. So we went out to explore.
We rode the Spyder over to Falls Park – a city park on the Big Sioux River where it cascades through a series of Sioux Quartzite rock formations. Sioux Quartzite is a very dense stone consisting of silica-cemented quartz sandstone – it's said to be the second hardest rock – only diamonds are harder. The stone beds at the falls are very resistant to erosion and the rocks in the area probably haven't changed much in 10,000 years.
We parked in the lot behind the Falls Overlook Cafe. When we pulled in, we saw an Alpine Coach pull into the park ahead of us. We talked briefly with the owner. He and his wife were from Pennsylvania and were on a five-month long trip that took them down to the southwestern US and now they are completing the loop back to Pennsylvania.
We walked along the paths in the park and checked out the falls. The Big Sioux River is contaminated with decomposing organic matter and agricultural runoff – swimming in it isn't advised. At the falls, I noticed some of the water was the color of tea – probably due to tannins from decomposing twigs and tree branches. Donna noticed excessive foam on some pools of water – most likely another by-product of decomposing organic matter acting as a surfactant. Both tannins and surfactants are naturally occurring when water is exposed to plant matter or peat.
At the information center there's a small gift shop and a viewing tower. The tower is about five stories high and gives a great view of the park and surrounding area.
In the photo above, the Falls Overlook Cafe is the building on the left. Behind it you can see the ruins of the Queen Bee Mill. This seven-story structure was built in 1881 at a cost of $500,000 – a staggering sum in those times. It processed 1,500 bushels of wheat per day, but closed down in 1883 due to inadequate water to power it and a shortage of wheat. It changed hands several times but never was successful. In 1956 it was destroyed by fire which consumed the upper floors and roof. Later, the upper walls were knocked down to prevent them from falling.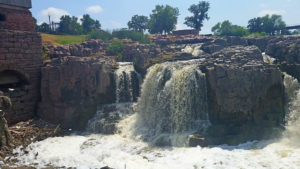 Although the heat and humidity was oppressive, the walk through the park and observation tower were well worth the effort. You can take an elevator to the top of the tower and the breeze up there felt good.
We left the park and rode downtown to Woodgrain Brewing Company. This is a microbrewery with a 10-barrel system and a nice pub at the corner of Phillips and 9th in the Plaza Building. We were a little surprised to see they share the first floor with Bluestem Capital – a financial planning firm. One door out of the pub leads you across the Bluestem reception area where you'll find the restrooms. Now that's a little different!
Woodgrain Brewing makes their own brews onsite and strives to use locally sourced ingredients including local hops and yeast strains developed by a local microbiology company. I had a pale ale and an IPA – the pale ale wasn't my cup of a tea – a little green. The IPA was well balanced and I liked it. Donna had a lime kolsch that she thought was a little bitter and a milk stout that she enjoyed.
Wednesday we had more storm warnings for the afternoon. Donna went out on her bike and rode 28 miles. I had errands to run. I had passport photos made at Walgreens, then went to the post office to turn in my passport application – my old passport is expired. I'm a bit worried about how that will turn out. We don't have a permanent physical address, only a mail forwarding service address. I don't know what the US State Department will make of that. If they don't issue me a passport, I'm out $110 – they don't make refunds if an application is denied – and I won't be making any plans to cross the border in either direction.
Once again the severe weather passed to the north of us. Donna caught up on laundry using the park's laundromat and I completed my errands. We hung out and had a quiet evening.
There's a construction crew on the highway next to the RV park. They start work early – around 6am and they are noisy! A jackhammer at 6am is not nice. Today I need to make a 100-mile round trip on the Spyder – I'm going to Madison to pick up mail at MyDakotaAddress. We usually have them forward our mail whenever we're stationary for a week or so, but I've been waiting for our registrations and license tabs to arrive. So I'll ride up there and retrieve our mail.
We also have to finish stocking up supplies for the RAGBRAI next week. The ride across Iowa takes us through many small towns and groceries are sure to be in short supply as thousands of people come through.
The forecast for today calls for a high of 90 degrees with thunderstorm warnings again tonight. I'll pack up the trailer and we'll head to Orange City, Iowa tomorrow morning.