We opted to stay for a second night in the campground at the Meriwether Lewis National Monument. The free campsites are clean and the scenery is terrific with good hiking opportunities. It's also very quiet. On Thursday, Donna hiked on the Old Trace trail which is part of the original Natchez Trace. The trail took her past the Meriwether Lewis Monument which is his final resting place near the Grinder stand.
For dinner on Thursday night, I grilled a pork tenderloin on the Weber Q. Donna had marinated it in a mojo marinade. She reserves half the marinade to pour over the meat after cooking. It's one of our favorite ways to prepare pork tenderloin and, as usual, it was tender and tasty. She served it with brown rice and roasted peppers, onions and zucchini.
On Friday morning, we packed up and headed down the Natchez Trace Parkway about 16 miles, then we turned west at US64. This is a divided highway with two lanes in each direction. I wanted to avoid I-40 and US64 seemed like a good alternative. There was very little traffic and the road surface was mostly good with only a few sections of construction and rough road. It was slower crossing Tennessee on US64 due to all of the small towns. We drove through Waynesboro, Savannah, Boliver and a few smaller villages before we stopped at Walmart in Somerville (map). We stocked up on groceries, then continued down the road.
US64 hit I-40 about 10 miles east of Memphis. It was immediately apparent that US64 was the way to go. It's an embarrassment and disgrace how our government has allowed the federal interstate highways to deteriorate. The potholes, cracks and uneven surfaces on I-40 make it barely drivable.
We crossed the Mississippi River and entered Arkansas where we had booked a site at Tom Sawyer's RV Park. We stayed here the first week of June.  Since then, we've completed a 4,000-mile loop that took us north to Minneapolis, across Michigan's upper peninsula, then down through Michigan and east to upstate New York. From there we went down through Pennsylvania and Maryland, across Virginia and finally back to Tennessee. Whew – we saw a lot and had some great adventures over the last three months. Along the way, we picked up a stray cat and also added a Traeger grill.
One big difference we found here in West Memphis this time around is the Mississippi River water level. When we were here in June, the water level stage was 15 feet. When we checked in yesterday, the stage was three feet. There's a sandbar creating an island right in front of the park. This wasn't there before. There are fewer barges on the river as well. I'm guessing the low water level makes navigation treacherous.
Last evening, I took a walk in the park to look at the river. Our site has us facing the water only a stone's throw away from the river. While I was out, I saw a 2012 Newell coach. The owner, John, and his son-in-law, Lee, were sitting outside. A 2012 Newell is a million-dollar coach (it was probably over $1.5 million new). I stopped and talked to John. It's always interesting to hear the success story behind owning a million-dollar rig. John's story was much like many I've heard since we've been on the road. He started out 38 years ago as the sole proprietor of a Heating, Ventilation and Air Conditioning (HVAC) service company. He had one truck and one employee – himself. He worked hard and established commercial contracts as well as residential service customers. Then he added a second service truck and employee. He continued to build his reputation and business. Today, he has 66 trucks and nearly 200 employees. He's enjoying life and seeing the country while his son runs the day-to-day operation of his business. I love hearing how hard work, perseverance and being able to make the most out of an opportunity pays off.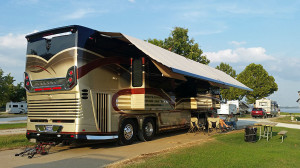 One of the things that tip off a high-end coach like a Newell or Prevost are the radiused corners on the slide-outs. These rounded corners allow the use of pneumatic slide seals. Once the slide is out, the seals inflate making an airtight seal. Before the slide is retracted the seal deflates and the slide moves freely.
We decided to stay here for three nights before we move on westward. Donna has been mapping routes to keep us off I-40 and finding places to stay as we make our way to New Mexico. She went out this morning to cycle the scenic and quiet 28-mile loop she rode several times earlier this summer.
Last night, Donna prepared pan-seared wild Alaskan salmon. She served it with the left over side dishes from the night before. Delicious!
Today I'm going to try my hand at smoking a beef brisket. Donna bought one the other day – it's something I've never done before. I'm hoping the Traeger wood pellet fired smoker/grill makes it easy to do.