We pulled out of Kearney RV Park and Campground a little past 10am Friday morning – a little later than I hoped, but not a big deal. We headed west on I-80 and found the road surface to be smooth and the driving was easy. We had a headwind but it was only 5-10 mph and we barely felt it.
We made a detour at North Platte, Nebraska – we wanted to visit the Golden Spike Tower. The Golden Spike Tower is a viewing tower eight stories high overlooking the largest rail yard in the world – Union Pacific's Bailey Yard. Bailey Yard is where Union Pacific performs maintenance on locomotives and train cars 24 hours a day, seven days a week.
We entered the tower building which is also somewhat of a Union Pacific museum and gift shop and we bought tickets to go up to the viewing platforms on the seventh and eight floors. Wouldn't you know it – when we went to elevators there was a malfunction and the elevator was shut down.
We didn't let that stop us. We climbed the stairs to the seventh floor which has an open-air viewing deck. My photos below cannot convey the scale of the operation. I've never seen so many locomotives and train cars in one place before. There are 49 tracks for the westbound trains and 65 for the east bound – counting the tracks into and out of maintenance facilities there are 200 separate train tracks totaling 315 miles of track on the 2,850-acre yard.
They have a hump for each direction – the westbound hump is a mound 20 feet high and the eastbound hump is 34 feet high. A locomotive pushes a train of cars up the hump and then, at the top, the cars are separated and roll down via gravity into a bowl which has several tracks. The cars are switched to the proper track to join a train being assembled.
The locomotive maintenance building is the size of three football fields and services about 750 locomotives per month. A modern diesel/electric locomotive is a complex piece of machinery. Maintenance and repair requires skilled technicians – diesel mechanics, electricians, hydraulic specialists and so on – more than 2,600 people are employed here. Again, my photos do not do justice to the scale of the operation.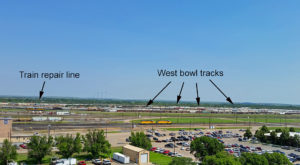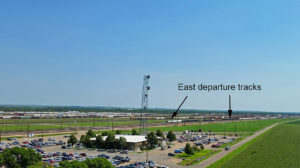 The sand towers fill a hopper in the front of the locomotive with sand. All locomotives have a sand reservoir and a pneumatic system to spray the sand on the tracks ahead of the drive wheels in case of loss of traction.
More than 10,000 train cars pass through the facility daily. They service about 750 locomotives per month and change about 10,000 wheels per year on the cars they service. We went up to the eighth floor which is an enclosed platform with a docent and displays. We found the tour to be interesting and a worthwhile diversion.
We ate lunch in the coach, then continued on our way west. I stopped for fuel at the Pilot/Flying J Travel Center in Big Springs (exit 107). We had plenty of fuel but since I wasn't sure where we would end up for the next few days, I wanted to have the tank topped up.
We continued west to Sidney, Nebraska – home of Cabela's. We found their store just north of I-80. Unlike most Cabela's stores, this one had a full service RV campground. They also had the usual dedicated RV and truck parking area. We went inside to see if we were okay to stay the night in the parking area – no problem.
We kicked around in the air-conditioned store for awhile looking at clothing and outdoor gear and sitting at the cafe. It was hot out. Around 4pm I went back to the coach and fired up the generator to start the air conditioners. We had an uneventful night there and hit the road around 9am Saturday morning.
We headed north toward Bridgeport, Nebraska and into the track of the total eclipse of the sun. This event has brought people out of the woodwork and into campgrounds all across the solar eclipse track. Most campgrounds are full and we heard about a few farmers opening up their pastures for dry camping – at $30 to $40/night! We also heard about some full service RV parks gouging with rates as high as $150/night for the weekend through Tuesday, August 22nd.
We didn't want to end up in a farmer's field – it would likely be crowded, noisy and if it rained, it could turn into a mud hole. There was no way I would spend the crazy campground rates we were hearing about. Donna had done some research and we thought we had a couple of viable options that wouldn't cost much if anything and keep us away from the crowds. We decided to take the first good option we found.
It boiled down to two places we wanted to check out. First, there's a city park in a small town called Bayard. The city maintains three RV sites with 50amp electrical hook-ups and fresh water. The first two nights are free, then it's just $10/night. Now that's an RV friendly town – the best I've ever found!
Our second option was the Kiowa Wildlife Management Area. There is a large, level gravel lot there perfect for dry camping in a big rig. The upside there would be a quiet place without much light pollution. The downside is dry camping with projected high temperatures in the 90s – meaning our generator would be running most of the time.
We stopped in Bayard first and were surprised to find the RV sites at the park empty! I unloaded the Spyder and backed our trailer into a site. I could hardly believe it – 50 amp electrical service and fresh water free for the weekend! We decided a bird in the hand was worth it – why move on to the unknown at Kiowa WMA and risk losing the site at Bayard. We set up and stayed put.
The temperature reached the mid-90s and I was happy to have both air conditioners running. Another class C RV with a couple and their young son from Longmont, Colorado showed up. They had a campsite at the Chimney Rock Campground nearby. They said the premium full hook-up sites there were going for $150/night and they paid $30/night for a dry camping spot. They said it was crowded and noisy with generators running all around them 24 hours a day. They asked us to hold a site here while they went back to Chimney Rock and gathered their gear. They are happier in this location.
A police cruiser came through the park several times patrolling in the afternoon and evening. Everyone in town is very friendly and local traffic waves at us as they pass – not that there's much in the way of traffic in this town of 1,200 residents. Bayard, Nebraska has to be the most RV friendly town you'll ever find!
In the afternoon, Donna and I rode the Spyder over to Gering – a town about 20 miles from Bayard. They had a car show there, but it was a little different than most of the car shows I've seen. It had the usual classic cars from the 50s and muscle cars from the 60s, but it also had a category for rat rods. One of the rat rods had passed us on I-80 on our way to Sidney and we saw it the show. It looked like something out of Mad Max – The Road Warrior!
It started out with an old truck chassis and body and went crazy from there. It had a Cadillac 472 cubic inch V8 mounted mid-chassis with a GM 400 Turbo Hydramatic transmission mated to a Jaguar independent rear suspension. It looked like a death trap to me.
The evening cooled down and we sat outside and read. Another group showed up – a car with three people from Lakewood, Colorado. They planned to tent camp here to view the eclipse. That's going to be tough as there are no public toilet facilities. They set up a tent in the park grass.
This morning, lawn sprinklers are running in the park, soaking their tent. They're not here – their car is gone and we have no idea what became of them. We plan to hang out today – Donna wants to go for a bike ride. I'll probably explore a bit then we'll sit tight for tomorrow's eclipse.
We may extend another night here before we move on to Cheyenne, Wyoming.