The rain is lingering here in northern California longer than expected. We had rain showers off and on all day yesterday. It's windy this morning and rain is forecast later this morning – possibly a thunderstorm with small hail this afternoon. The forecast high for today is only 63 degrees. If the weather guessers are right, starting tomorrow we'll have a completely different weather picture. The forecast calls for a high of 80 degrees and no precipitation.
We didn't do much yesterday – Donna went grocery shopping in Corning and then out for a bike ride. I made a run into town for a few things in between rain showers. I figured while I was hanging around this morning, I would write a short post about a couple of oddities we came across recently.
The first was in Sparks. We went to Great Basin Brewery Friday afternoon for happy hour and had an early dinner and a couple of cold ones. Great Basin has three locations in the area – the Sparks Brewery and Pub, another brewery and pub in Reno and a third location that's a bottling facility. Great Basin is the oldest currently operating brewery in Nevada. The Sparks location is the headquarters and it opened in 1993.
Sparks and Reno are joined – they aren't two distinct cities anymore. If you travel westbound from Sparks on Prater Way, once you pass under I-80, it becomes 4th Street and you're in Reno. When I was a kid back in the 1960s, I came through here on a summer vacation with my grandparents. I remember Sparks being a small town a couple of miles outside of Reno back then. But I digress.
Back to the story at Great Basin. When we left the pub, Donna noticed something odd at the fence by the parking lot. Two bicycles were locked together through the fence, one on each side. The strange thing was the lack of wheels. One bicycle was a road bike and both wheels were missing. The other was a mountain bike and the front wheel was missing.
I took a closer look and could see the remaining rear wheel on the mountain bike had a conventional axle with nuts fixing it in place. The drop-outs for the missing wheels appeared to be quick-release type – no tools required.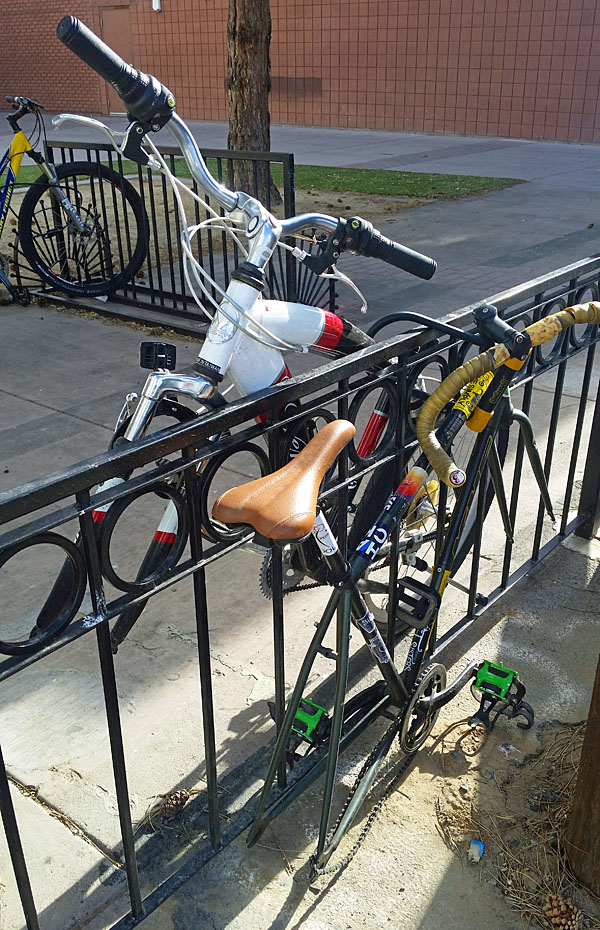 We concluded that one of two things occurred here. Either the owners of the bikes removed the wheels and took them wherever they went – we didn't see anyone with bicycle wheels in the pub. Or, a thief saw a target of opportunity. Since the frames were locked together, he or she simply released the skewers on the quick release axles and took the wheels. We'll never know.
We came across another odd thing here at Rolling Hills RV Park. We're in Corning, California in the upper Sacramento Valley. This part of the valley is relatively flat with gently rolling hills. Around the Rolling Hills facility are open fields with native grasses, the casino, an equestrian center and a golf course.
While we were walking through the RV park to check out the sites, we came upon two birds. I immediately recognized them as chukars. But here's the thing, chuckars don't belong here. I've only found chukars on steep, rocky canyon walls. Their native habitat is actually in the middle east and Asia. But they've been successfully introduced in the western states – California, Oregon, Washington, Idaho, Nevada and Utah. They're mostly confined to the rocky steep walls of canyons where they find security and feed on cheatgrass. Most often, water can be found close by.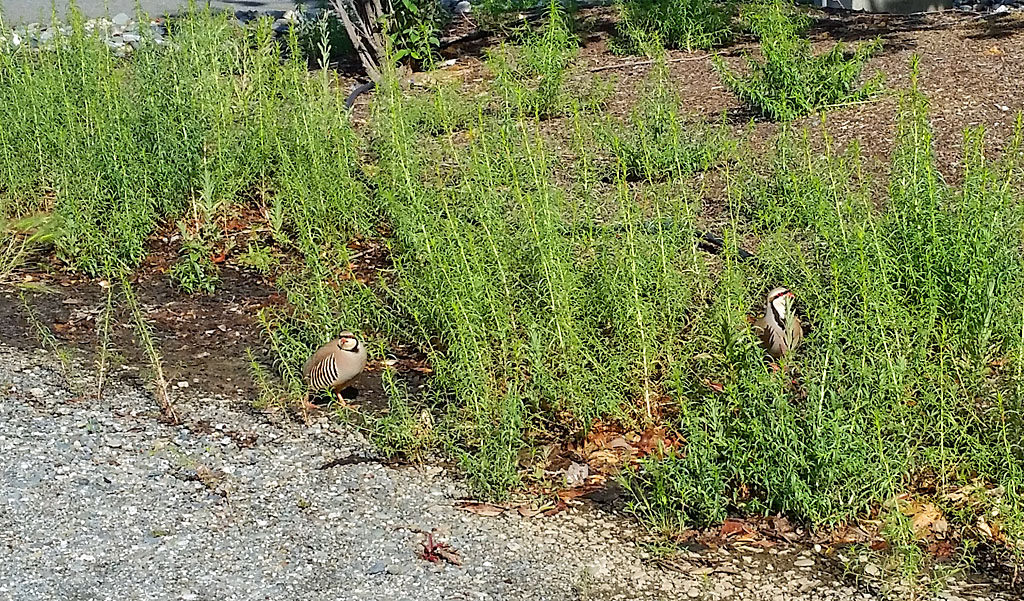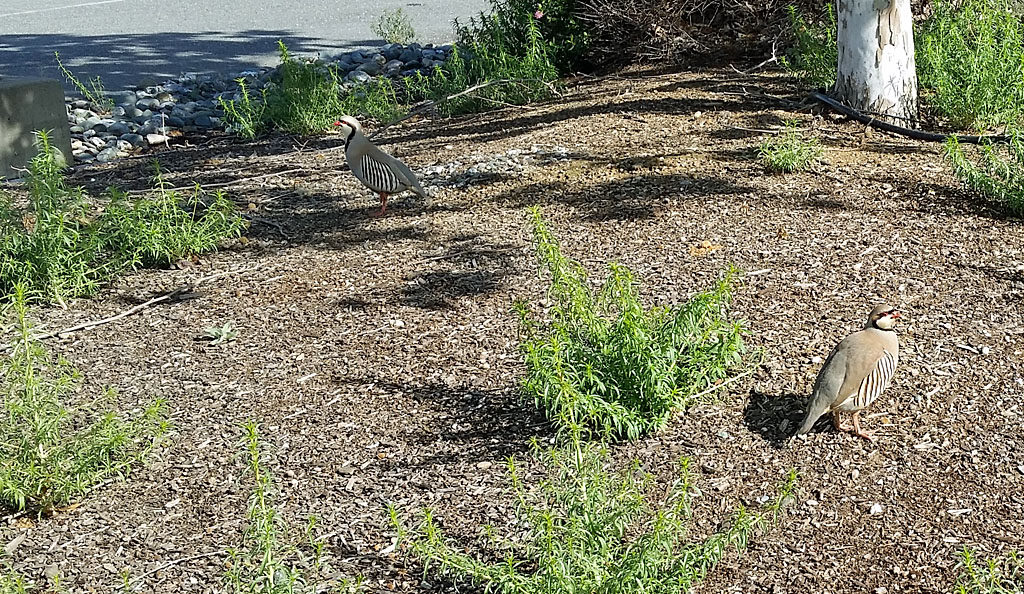 So, what are chukars doing in this fairly flat region? I can only guess that they're escapees from a game farm, but I'll probably never know.
There are also plenty of California quail around here, but that's not unusual.
Last evening, in-between rain showers, Donna grilled shrimp skewers and a new-to-me side dish. It was a portobello mushroom with pesto, prosciutto and mozzarella cheese. It was a treat. She also picked up some fresh corn on the cob. It seems really early for fresh corn, but there it was. The white corn wasn't the sweetest but it was good.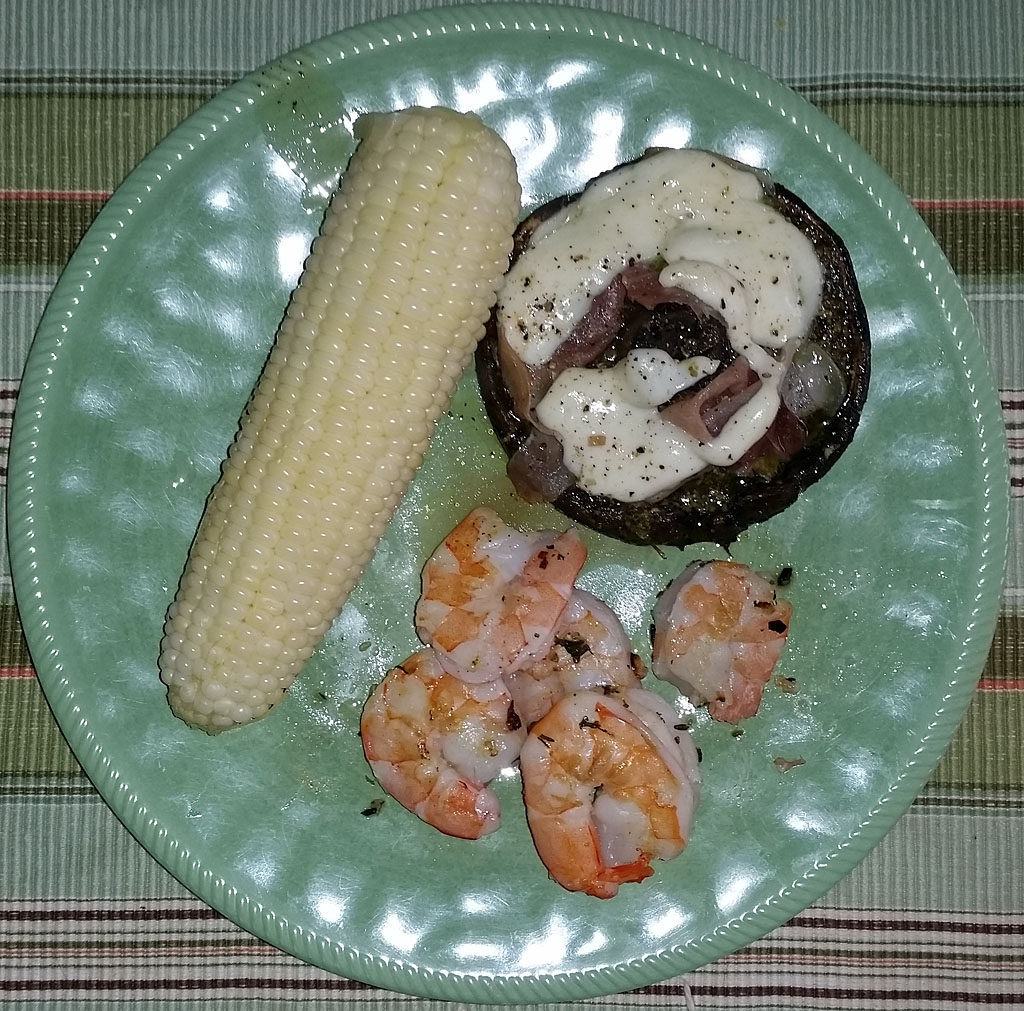 We'll hang out today and wait for the weather to improve before we start exploring the area. Donna plans to put on a pot of lentil stew – perfect for a rainy day.