I've become a little lazy about posting lately. I haven't written a post in 10 days! It's mainly due to the routine we've fallen into here at Viewpoint Golf and RV Resort in Mesa, Arizona. It's hard to believe we've been here for almost three months already. Our routine consists of pickleball games most mornings, tennis lesson a couple of times per week for Donna and I instruct a pickleball class on Wednesday afternoon for players graduating to intermediate level play.
I have happy hour with my friends at Lucky Lou's a couple afternoons every week. I spend time with some of the guys I knew and hung out with when we lived here 10 years ago. In one week, we'll be moving on – back to San Diego for a month. With the coach set up at Mission Bay RV Resort in San Diego, we'll take a week off and kick back in Belize.
Last week, I finally got the Traeger wood pellet fired smoker grill out of the trailer and prepared my famous babyback ribs. Our neighbor across the street from us, Dick, was a bachelor for the week as his wife, Roxie, had to take care of business back at their home in Spokane. We invited Dick over to have a smoked rib dinner and we enjoyed the company and a few adult beverages. Originally we intended to include our other neighbors, Chuck and Sue from Illinois, but Sue's brother unexpectedly passed away and they hastily packed up and headed back to Illinois.
There's an outdoor shooting range up on Usery Pass – a couple of miles up Ellsworth Road. They hold an annual competition there for three gun competitors. Three gun competition is exactly how it sounds – you must be proficient with three types of firearms – pistol, shotgun and rifle. I went to check it out Friday afternoon – there's no charge for spectators.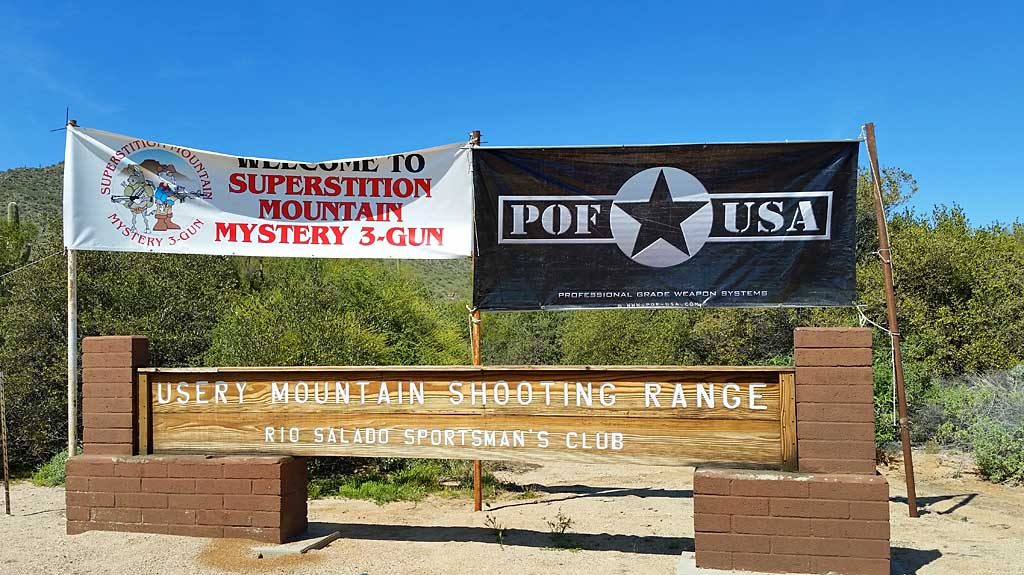 The event is called the Superstition Mountain Mystery Three Gun. Competitors complete various scenarios in different settings called stages – this competition had 12 stages. In each stage, targets are engaged from different positions and distances and the competitor has to transition from one gun to another.
In the picture below, the shooter is knocking down steel plates with a shotgun. He started on the left side of the helicopter chassis and knocked down six plates, then he had to move to the right side to knock down six more plates – he's shooting at the last plate.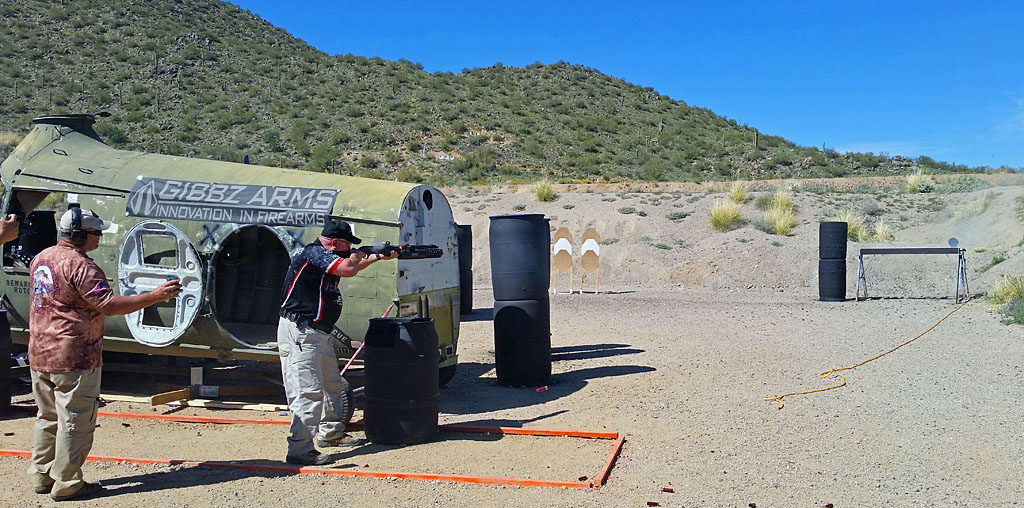 In another stage, the competitor is shooting a pistol at a variety of targets, then he drops the pistol and picks up a rifle as he scrambles onto an inclined board to engage targets 500 meters away with his rifle. This is a long shot! Five hundred meters is about 1,600 feet – well over a quarter of a mile. Meanwhile, the clock is ticking so they have to make the shots as quickly as possible and don't have time to catch their breath during a stage.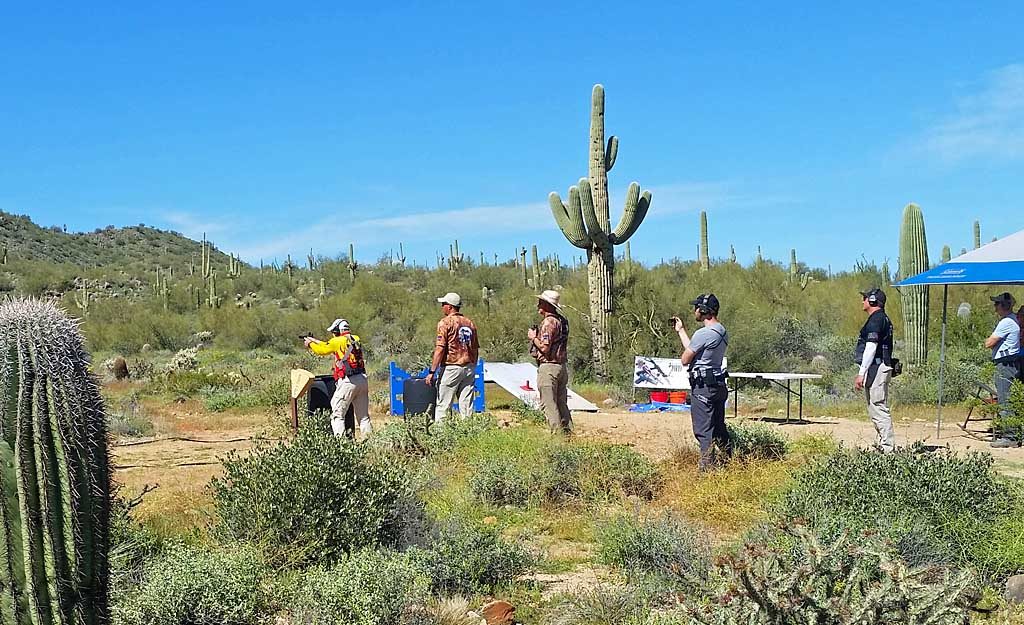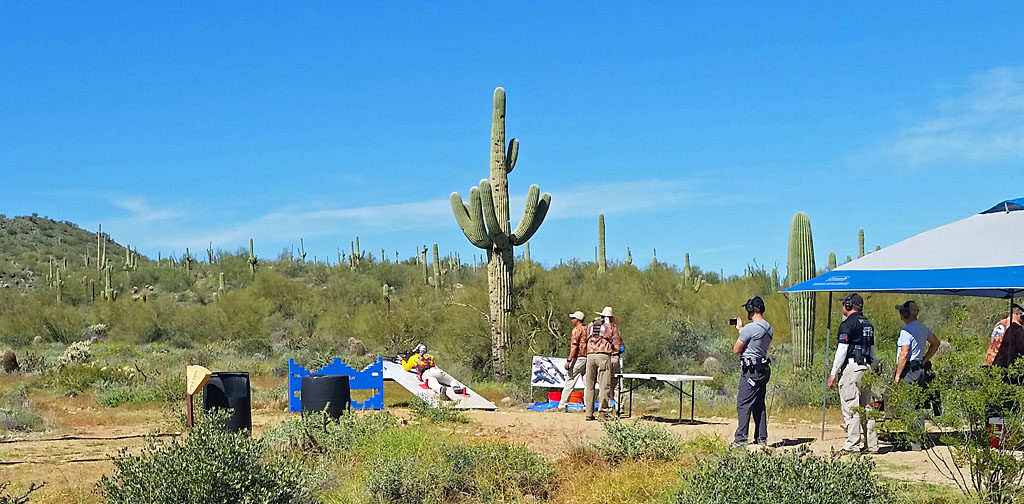 I had the opportunity to meet a legend in the speed shooting and competition shooting world. Jerry Miculek (MITCH-e-lek) was competing in the Superstition Mountain Mystery three gun event. Jerry has been at the top of the game for as long as I can remember. I think he's been sponsored by Smith and Wesson for nearly thirty years. He holds several world records for speed and accuracy. He has a TV show on the Outdoor Channel called Shootout Lane that I enjoy watching.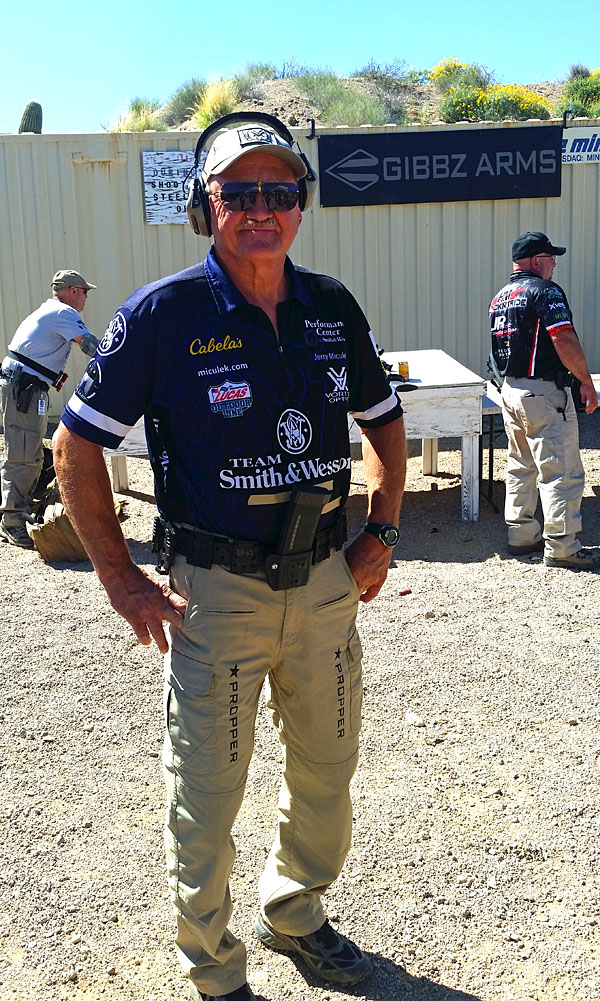 I had to opportunity to meet and speak with Jerry. He's truly a nice guy – if you've ever watched his TV show, he is just as soft spoken and humble as he appears on TV. Jerry's 64 years young and still at the top of the game. His daughter, Lena, is also a top competitor sponsored by Sig Sauer – she was the top female shooter in the world in 2014. She wasn't at this competition – she's concentrating on Pistol Cartridge Carbine (PCC) competition at this time.
Saturday morning, I competed in a men only pickleball tournament. We started with a series of round-robin play to establish the qualifiers for the semi-final and Championship round. I played nine games of round robin and qualified for the championship round. Unfortunately I lost the in the end and wound up in second place again. It was fun, but I was whipped after 10 games. My S-Health app recorded nearly 15,000 steps on Saturday. You can see from the bar graph that most of them were before noon during the pickleball tournament. I keep my phone in my pocket while I play to record the steps.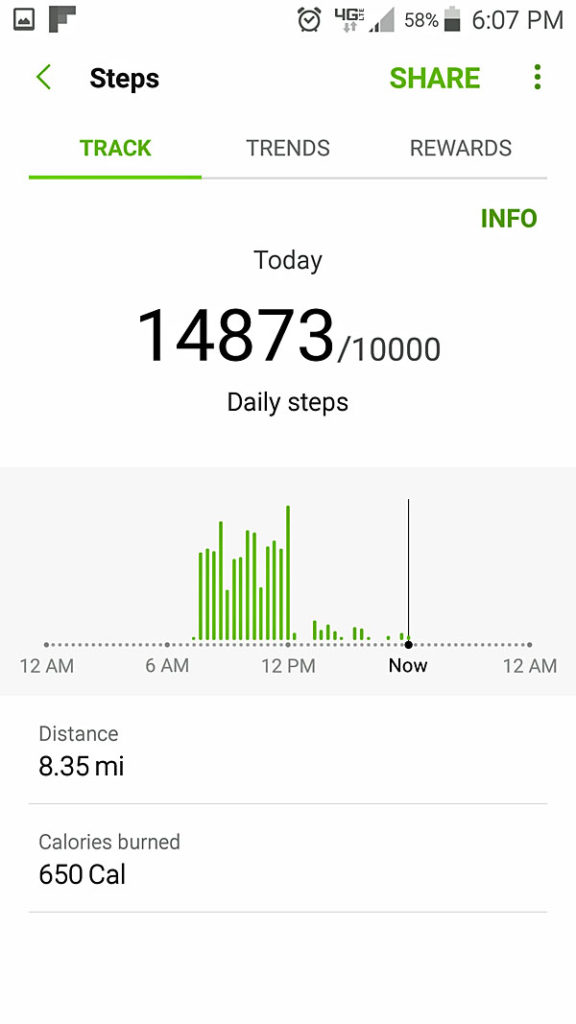 On Saturday afternoon, we went to a pool party and barbeque at Jeff and Krissy Van Deren's house. We had a fun time with plenty of good food and drink. The only person in the pool was Mike and Kim Child's granddaughter Abigail. We said our goodbyes to Mike and Jodi Hall there as they're heading out for week-long vacation in Jamaica.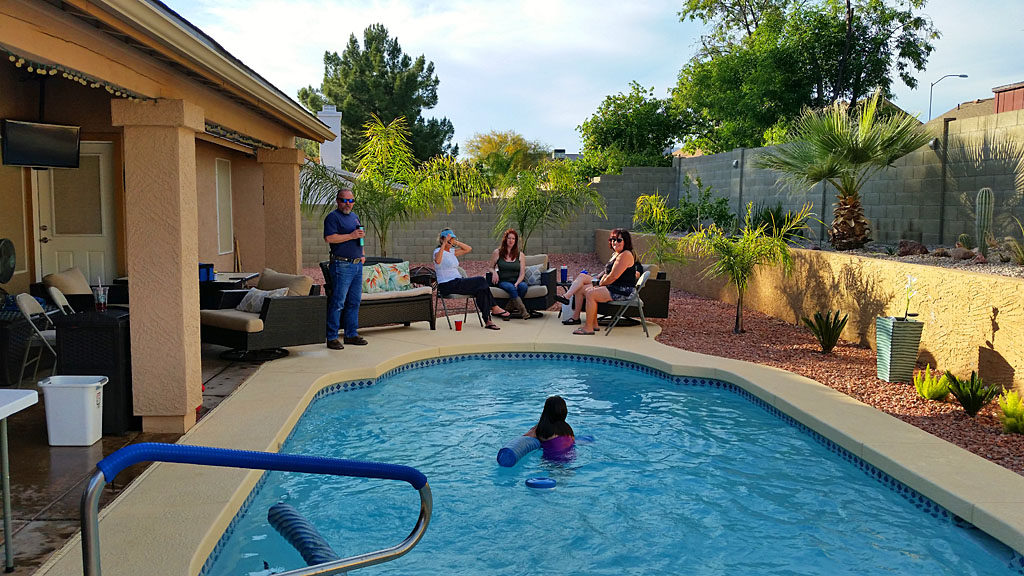 My post wouldn't be complete without a dinner plate picture. Thursday night, Donna made Chicken Lombardy. It was absolutely delicious served with forbidden (black) rice and asparagus.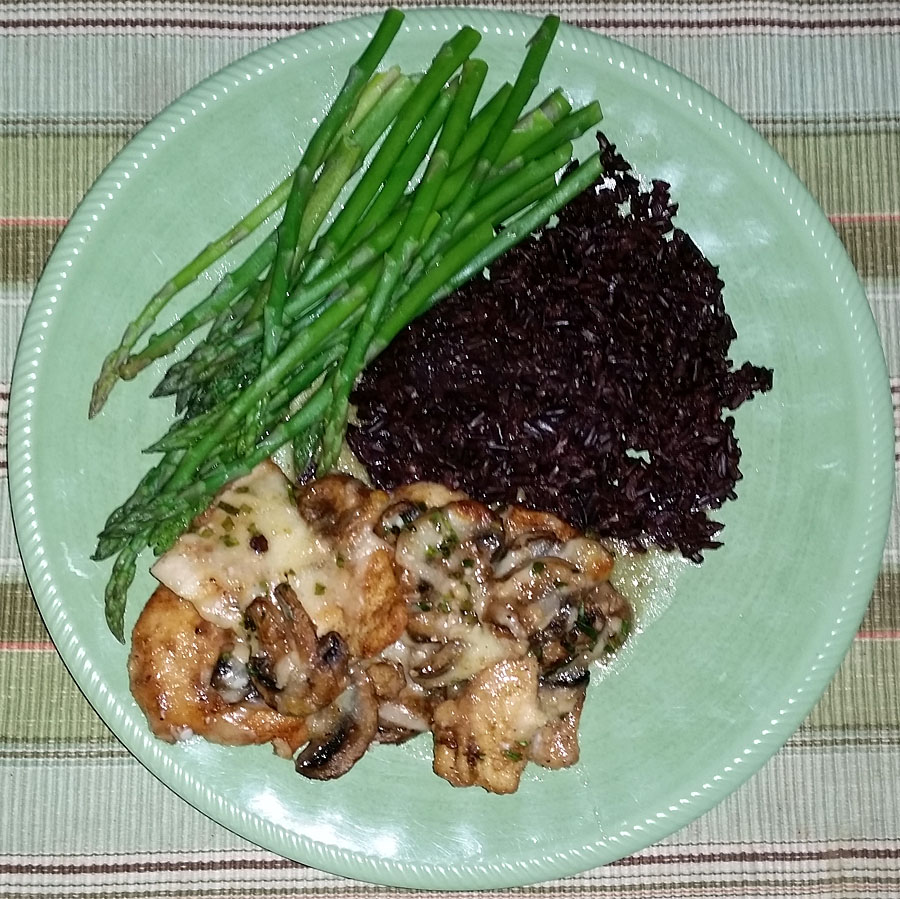 The weather has been very pleasant although we had a couple of cloudy days and gusty winds last Tuesday. The daily high temperature ranged from 70 to 80 degrees. The week ahead looks a little warmer with mid-to-upper 80s. I'll have to get busy and finish a few maintenance chores before we pull out of here next Sunday.