My last post was on Monday, so I have some catching up to do. Between travel days and a stop without a good Internet connection, I haven't been able to post. Nearly five years on the road and I can only think of a few instances where our Verizon Jetpack wasn't able to pick up a good wireless signal.
In my last post, I mentioned I was waiting for a package to arrive at the Hattiesburg post office. I followed the tracking and it showed it was available at the post office in the historic downtown area of Hattiesburg Monday morning. Hattiesburg isn't a large metropolis by any stretch, but it does have three post offices. I've always been a little leery of having parcels sent to General Delivery in larger post offices.
I rode the Spyder downtown to collect the package. The diagonal parking on the street was all metered. Uh-oh. I didn't plan for that. I found two dimes in one of my pockets and wondered how long the line was in the post office. I put a dime in the meter and found that bought me 36 minutes of parking time! I was able to retrieve my package in a matter of a few minutes. I won't be so leery of General Delivery from now on.
The package I was waiting for came from Famous Smoke Shop in Easton, Pennsylvania. That's right. I'd ordered cigars. I got a box of cigars from Tabacalera Oliva in Esteli, Nicaragua. Oliva makes a large number of hand-made cigars for their own brands and others. The cigars were boxed in a beautiful wooden box also made by Oliva. They have their own wood shop making cigar boxes! Last year, they made over 60,000 boxes there and are expanding to be able to supply up to 100,000 boxes annually. They are a big part of the economy in Esteli. The box was made with interlocking box joints and a hinged snap clasp – exquisite construction for a consumable. No paper covered cardboard at Oliva!
On Tuesday morning, we made the coach ready for travel. Before we hooked up the trailer, I drove to the dump station to dump and flush the holding tanks. Then we drove back to our site to hitch up the trailer and were on the road by 10:15am.
Our route took us away from Hattiesburg up I-59 to Meridian where we made a stop at Walmart to stock up. The road surface was good and the traffic light. There was dense forest most of the way with fewer pine trees than we saw south of Hattiesburg and more hardwoods. Mississippi isn't like I expected.
I-59 gave way to I-20 and we were on a northeast heading. Our next stop was in Tuscaloosa, Alabama at the Pilot Travel Center. This is our first trip to Alabama in the coach – I've flown into Atlanta several times before but never visited any other part of Alabama. We continued toward Birmingham on I-20 and exited at mile post 100 before we hit Birmingham.
We found the Tannehill Ironworks Historical State Park there. They have RV sites located in three campgrounds. We were lucky and scored a pull-through full-hookup site for just $25/night. Our site was more than 80 feet long! We paid for two nights.
The park is in a heavily forested, hilly area and Mud Creek runs right through it. Donna went out on her knock-around bike while I puttered around our site. She found a few trails and points of interest. It was hot and very humid – temperatures in the 90s. We had both roof air conditioners on for the duration of our stay.
On Wednesday morning, I took Donna's bike and traced her route from the day before. After going up and over a steep hill, I found some historic buildings. There was an old forge – the blacksmith shop – and a grist mill that dated back to the civil war.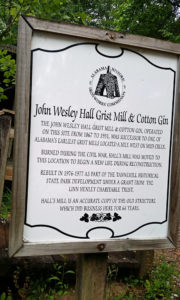 On Wednesday afternoon, Miriam Armbrester and her husband Rand picked us up at the park. Miriam has been a subscriber to Donna's organizing tips newsletter for more than 15 years! They live in the area and it was Miriam who gave us the tip about the campground at Tannehill State Park.
They took us up to Bessemer where we had lunch at the oldest restaurant in Alabama – the Bright Star. The Bright Star opened in 1907. It's well-acclaimed – it's listed on MSN's list of 60 iconic restaurants you must try before you die. It's also a James Beard Foundation award winner for American Classics.
Rand grew up in Bessemer and has known the restaurant owners since he was a young boy. We met Jim and Nick Koikos, the brothers who have run the family business since 1966. Since it was our first time there, they started us off with a taste of their seafood gumbo – gratis. Donna and I ordered the daily special – grilled red snapper stuffed with lobster and crab au gratin. It came with a choice of three sides and was fabulous.
Rand hosted the lunch and very generously picked up the tab. Thanks again, Rand! Miriam made up a goody bag for us containing stuff made in Alabama, everything from old-fashioned ginger ale to syrups, barbeque sauces, grits, chips and coffee plus a couple of books written by a pastor friend.
She also gave us a sour cream pound cake that she made. Delicious – I'm sure it'll put a pound on. Thanks, Miriam!
We had a thundershower Wednesday night but it was dry out when we woke up Thursday morning. It took me a little longer than usual to get squared away for the road. The hoses all needed to be wiped clean from the rain and mud. Also, I didn't notice it before but one of the cabinet doors in the trailer must not have been secured. It popped open sometime on the road and spilled its contents on the floor. I put everything away and made sure the doors were secure.
We hit the road around 10am and took I-20 into Birmingham. Rand warned us of road construction in the city. I looked at alternative routes but in the end figured it wasn't going to be much better to try and skirt around it. My hunch proved true – we didn't have any issues with construction traffic and hit open road again on I-65 once we were past Birmingham. A couple of hours later were crossed into Tennessee.
I noticed something I don't remember seeing outside of Texas before – armadillo road kill. I've seen dead armadillos on the roadside in every state we've been in since we were in Texas – Louisiana, Mississippi, Alabama and Tennessee – even right outside of Nashville. I know they're expanding their range and I also know I never saw them in Tennessee before.
The traffic in the Nashville metro area was terrible. There are a few junctions where multiple freeways converge and traffic stops. You need to plan ahead to be in the correct lane or you'll end up on the wrong freeway. Many people don't do this and try to make multiple lane changes at the last instant. Scary!
We were thinking about going to the Opryland Resort to dry camp but changed our plan en route. We booked a week at the Grand Ole RV Resort and Market on the north side of town in Goodlettsville. They did't have a full hook-up site available, but they put us into an electric only overflow site for two nights, then we'll move to a full hookup pull-through site for five nights. They discounted the weekly rate for us.
The staff is very friendly. A woman from the office drove me around in a golf cart to look at various options for dropping the trailer and different sites. After conferring with a guy from the office, they put us in the overflow site and suggested I drive across the lawn and pull into the site from the back, leaving the trailer hooked up. I told them I could just as easily back into the site and not make a loop across their nice lawn. They didn't seem to think I could maneuver the trailer in reverse like that. Donna directed me and we were in without any issues at all.
After dinner, a thunderstorm moved in. It looks like we're in for more warm weather with a high probability of daily thundershowers. The shuttle to downtown Nashville starts running on Monday, so we'll probably just hang out until then before we check out the downtown music scene.