I saw something unusual Tuesday here at Pine Near RV Park in Winthrop. A car was towed into the park – not behind an RV but on a flat-bed tow truck – and dropped into a site next to the clubhouse. I was curious about this and went outside. I asked a young woman why the car was being dropped here.
She told me they were camped here and her car broke down on a day trip to Pearrygin Lake State Park. She was from Bellingham – about a four-hour drive from here – and friends were going to come down with a truck and trailer to get her car home. However, they couldn't come until later because they were at work and would leave Bellingham around 5pm. At Lake Pearrygin, she was told the car would be impounded if she left it there, so she had towed here to wait for her friends to come and take her home.
Around noon, Donna headed out on her bicycle. She rode south on Castle Avenue which became Twisp-Winthrop Eastside Road. This road follows the Methow (MET-oww) River all the way to WA20 on the south end of Twisp. I gave her about a 30-minute head start, then followed on the Spyder.
We met at the La Fonda Lopez Mexican Cafe in Twisp for lunch. Spending so much time in the southwest, it's easy to become jaded and think that's the  only place to get good Mexican food. We ate at La Fonda Lopez last year and found it to be very good. Who knew you could find good Mexican fare in a small town in the North Cascades?
It was pleasant weather wise. I spent the afternoon in the shade of our awning reading a book. We decided against moving to another site to extend our stay here. Someone had reserved the site we're in starting Friday, so if we wanted to extend we had to move. While I was sitting outside reading, Anna, the owner of Pine Near RV Park, stopped by and told me the person with the reservation for our site just called and cancelled. We could extend if we wanted to without moving. Donna and I talked it over and decided to stay through the weekend and we'll pull out of here on Monday. Anna gave me the weekly rate and gave me a bonus discount!
I grilled lemon rosemary chicken thighs and garlicky asparagus for dinner. Donna made red potato and egg salad to serve with it. We dined al fresco at the picnic table on paper plates.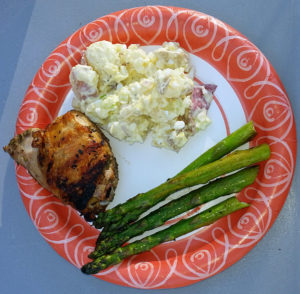 It was windy on Wednesday so a bike ride wasn't appealing to Donna. After lunch, we rode the Spyder down the Twisp-Winthrop Eastside Road to the North Cascades Smokejumper Base. It's located about halfway between Winthrop and Twisp. They offer free tours during the fire season – June 1st to October 1st.
While we were reading a placard in front of the office, one of the fire fighters came over to us and introduced himself. His name was Tom McCullough. Tom offered to give us a tour – we just had to sign in the guest book in the office.
This is where smokejumping began. In the fall of 1939, experimental jumps were made with firefighters parachuting into remote areas of the Okanogan (formerly called Chelan) National Forest. These experiments were successful leading to the establishment of two smokejumper bases in 1940. This base in the Methow Valley was one of them – the other was Ninemile Camp, near Missoula, Montana. Today there are about 400 highly trained smokejumpers employed by the US Forest Service and Bureau of Land Management in nine bases in the western states and Alaska.
We started the tour in the Lufkin Parachute Loft. This loft was built in 1939 and is named after Francis Lufkin. Francis Lufkin made the first wild fire jump in the Pacific Northwest and was a smokejumper here and managed the base until 1972.
Inside the loft there was an artistic display made by one of the crew – it featured smokejumper equipment in an array that looked like the wings of an eagle.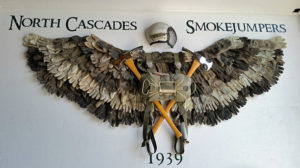 The main firefighting tool is the Pulaski – two of them are crossed in the center of the display above. A Pulaski is a combination of an axe and an adze (sometimes called a grub-hoe) in one head. It's used to chop wood or dig trenches.
They also had a plaque displayed with brass name tags under jump milestones – ranging up to 350 – only one name was under the 350 jump heading.
They wear jumpsuits made of Kevlar and Nomex which are hung on hooks along a walkway. The jumpsuits are packed and ready to go. The firefighter steps into the suit backwards and straps it on. The fully packed suit weighs about 70 pounds. The Nomex material is fire-resistant and it's also padded to prevent injury if the jumper happens to get hung up in tree. They also wear a helmet with a wire mesh faceshield for protection against tree branches.
If they get caught in a tree, they carry gear to rappel their way down. Then they have to recover their 'chute. Additional firefighting gear is dropped in cargo boxes pre-packed by the smokejumpers with smaller cargo 'chutes.
Rookie smokejumpers must pack a minimum of 20 practice parachutes that are inspected and passed before they actually jump with a parachute they packed. The 21st 'chute is used by the person who packed it. With more experience and certification, they can pack 'chutes for other people to use.
Smokejumpers are responsible for maintaining their gear. They're proficient with sewing machines and repair any rips or tears in their parachute canopy, Nomex clothing and jumpsuits. In fact, they make all of their own fire fighting suits.
At the North Cascades Smokejumper Base, they contract with an aviation company to keep a CASA C-212 short takeoff and landing airplane. The contract includes pilots for the plane. The CASA -212 was made in Spain mainly for military use. It's powered by two 900 horsepower turbo prop engines and is known for its great rate of climb. The smokejumper plane is set up with two opposing benches on each side of the fuselage. The door is removed and a static line is installed to clip the parachute release. When the jumper goes out the door, the static line pulls the release on the parachute pack and the 'chute opens automatically. The CASA C-212 carries 10 passengers in this configuration – eight smokejumpers and two spotters plus a flight crew of two.
They usually jump from about 1500 feet above ground level and are down quickly – maybe 60 to 80 seconds of flight time before they hit the ground.
The tour included going inside the plane for a look. We also toured the warehouse where supplies are packed with parachutes attached. The supplies are meant to equip two people or feed and provide water for two people for 48 hours. The smokejumpers always jump in pairs – when the lead jumper is released by the spotter, his partner immediately follows out the door.
The fire season is just beginning. On average, they will work 45 fires per month at this base during the fire season. When they aren't on a fire, their days are still busy. They have about an hour and half of physical training every day. They do practice jumps and they maintain equipment. They work regular shifts for five days, then have two days off. Crews of eight jumpers are on the board everyday – ready to go seven days a week. When they're on a fire they don't have any time off. They're on overtime working 24 hours a day until they have the fire under control.
The tour was very interesting and definitely worthwhile if you're ever in the area. We finished the day by going to the Old Schoolhouse Brewery and enjoyed a couple of pints on the deck next to the Chewuch (CHE-wock) River.
Donna tried the Double D Blonde ale but it was more bitter than she likes. Then she tried the Uncle Bigs Brown and liked it. I had the Allgood IPA and it was nice.
Today isn't as windy as yesterday was and Donna plans to go for a bike ride. I need to give her bike a tune-up. The forecast calls for a high in the low 80s with a few clouds. We don't expect any rain during our stay here in Winthrop.