After I wrote my last post Saturday morning, we headed out on the Spyder. We rode to the Reno Riverfest – a summer kick-off held at Wingfield Park near downtown Reno. Wingfield Park is an island in the Truckee River, which flows right through town, accessible via pedestrian bridges, two on the north side and one on the south. The Riverfest featured a number of events including a kayak competition, several bands on two bandstands, vendor tents and beer gardens.
Entry was free and a sunny Saturday meant huge crowds in the park. The temperature was around 80 degrees.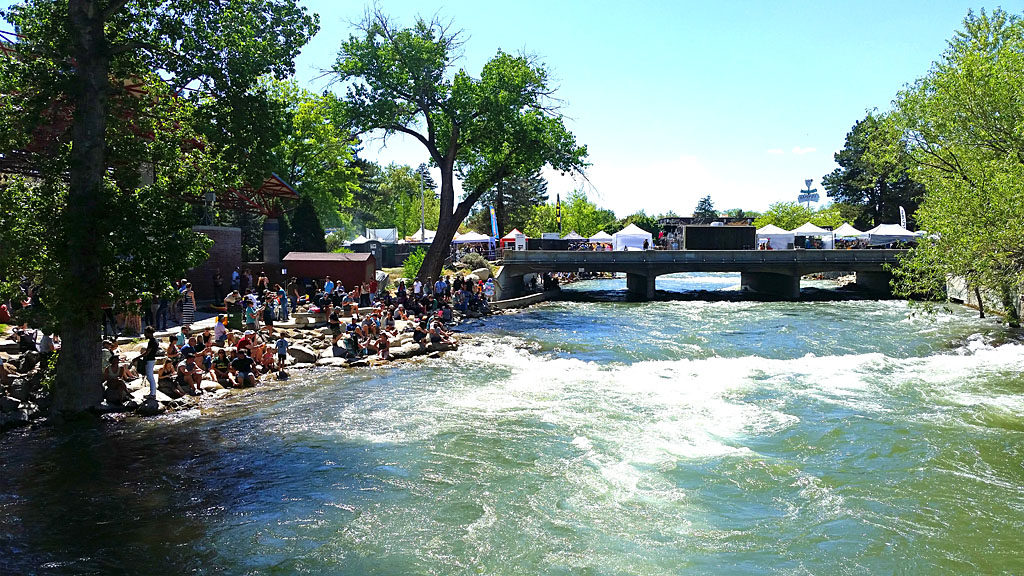 We watched the kayaks on the south side for a while. The competitors had to paddle upstream through rapids and maneuver through a series of gates. It looked very technical as they had to quickly change direction to get through the course.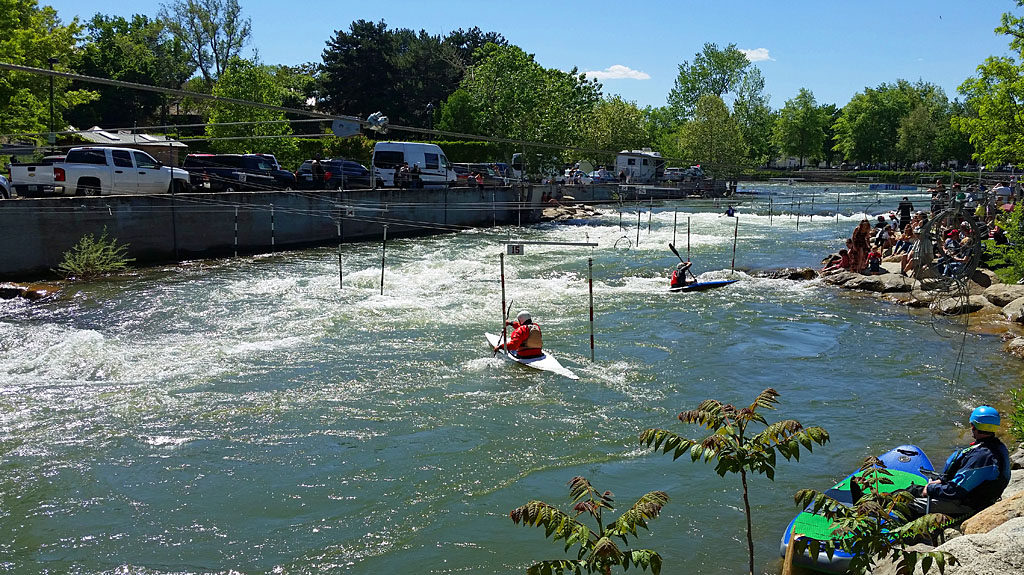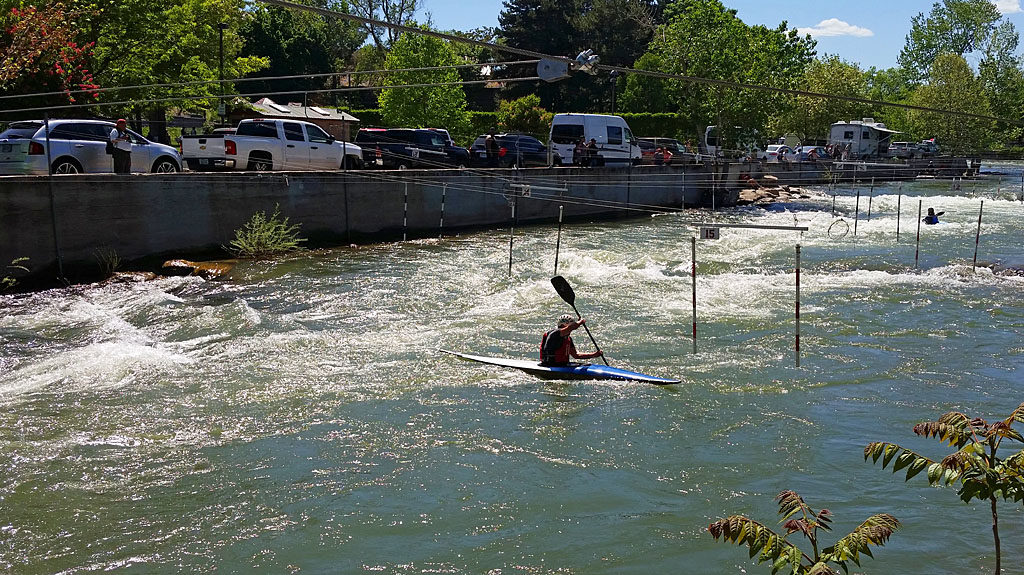 We listened to a guy performing an excellent blues set with just his acoustic guitar and a great voice. He was good!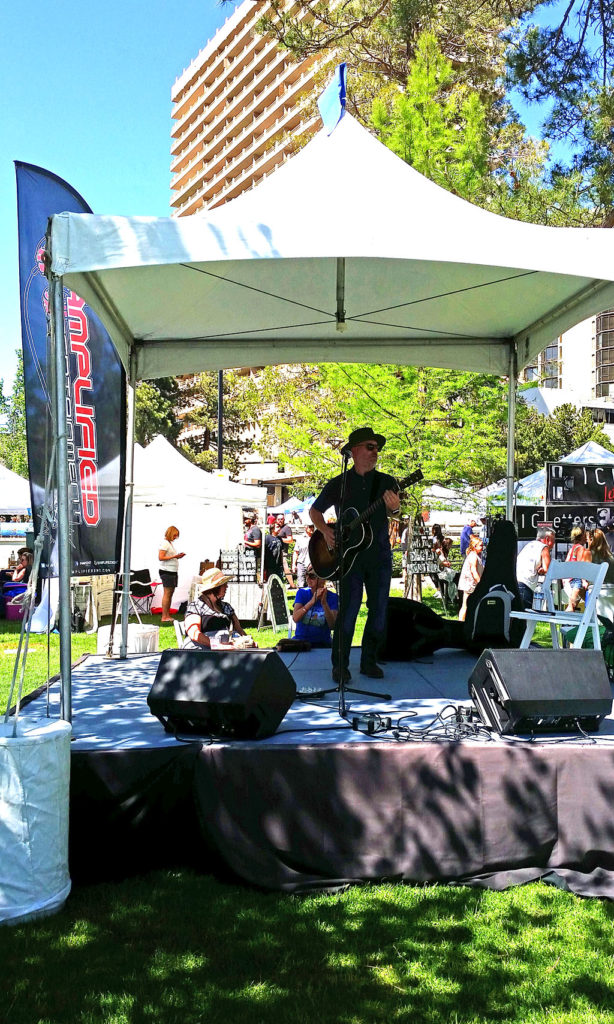 We didn't hang around for too long. It was very crowded and Donna had left her I.D. back at the coach, so we couldn't go into the beer garden. On the way back, we stopped at The Depot Craft Brewery Distillery. We sampled a couple of tasty brews made onsite – they were okay with Donna not having her proof of age. They also have five stills for distilling spirits, but we didn't try any liquor.
On the way to the Riverfest, Donna spotted a storefront with a sign advertising hand rolled cigars. We made a stop there on the way back. It was Ruiz Cigar Lounge. This is a cigar shop featuring Ruiz cigars – rolled onsite by Marvin Ruiz and also some Ruiz cigars from his family's factory in Esteli, Nicaragua. Marvin is an interesting and very friendly guy. He moved to Nevada from Nicaragua in 2005. He imports tobacco from his family's farm and rolls cigars. He learned the trade in Nicaragua, first working at the Padron factory where his father and grandmother also worked at one time. Later he worked for Drew Estate and then Perdomo.
We talked cigars for a while as he showed me his selection and described many of the cigars in the Ruiz line up. I bought one to try, then he surprised us with a treat. He brought out some tobacco leaves and described the different leaves. They were all Nicaraguan from Esteli and Jalapa. He realized I knew a little bit about cigar construction as we discussed different leaf types and methods of rolling the filler.
Then he proceeded to roll a cigar. It was like watching a magician. His movements were quick and precise – he had the filler bunched and rolled in the binder so quickly that there must have some sleight of hand involved. He was almost done with the cigar before I could start snapping photos.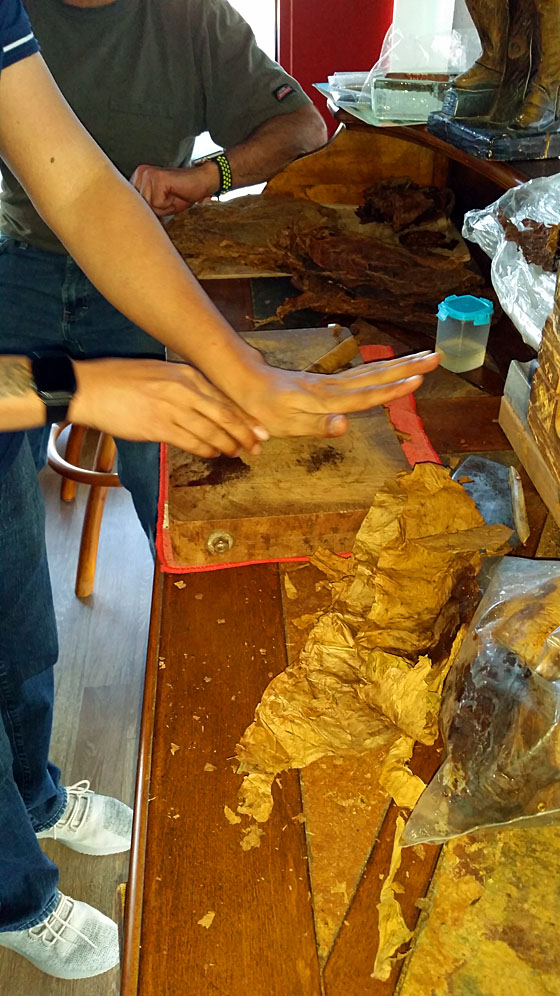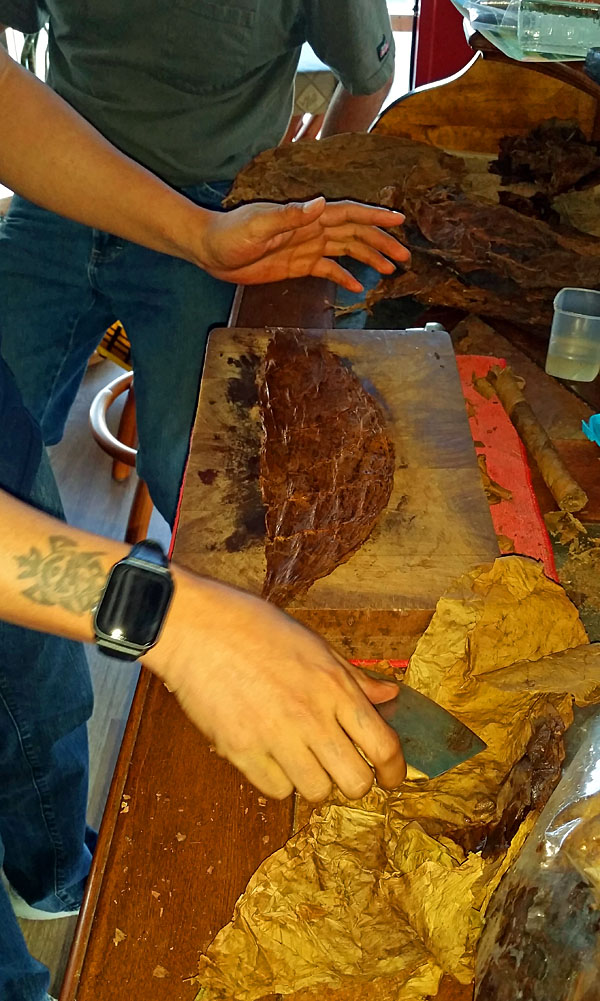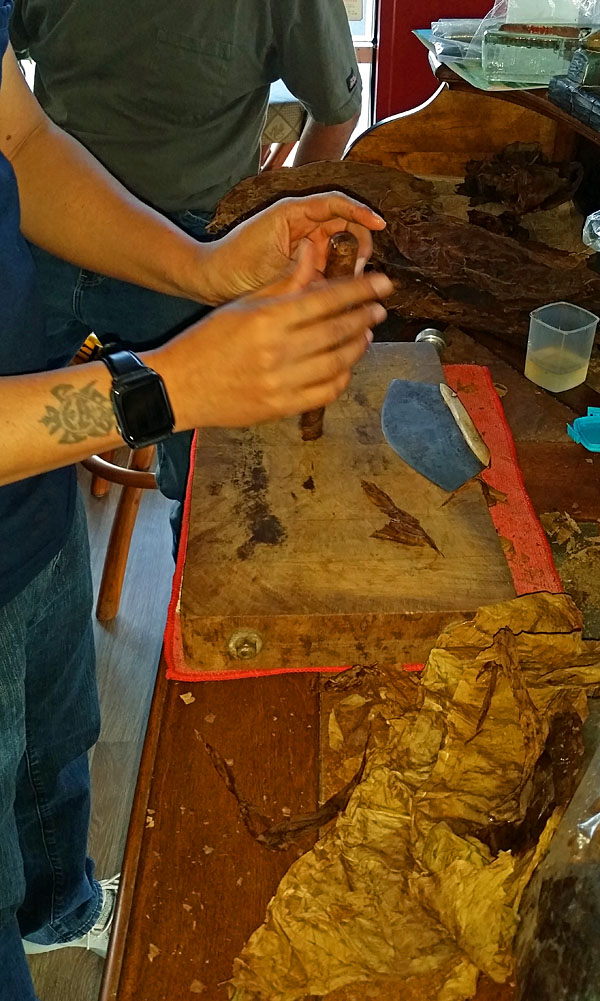 He gave me the Churchill cigar he'd just rolled. How generous is that?!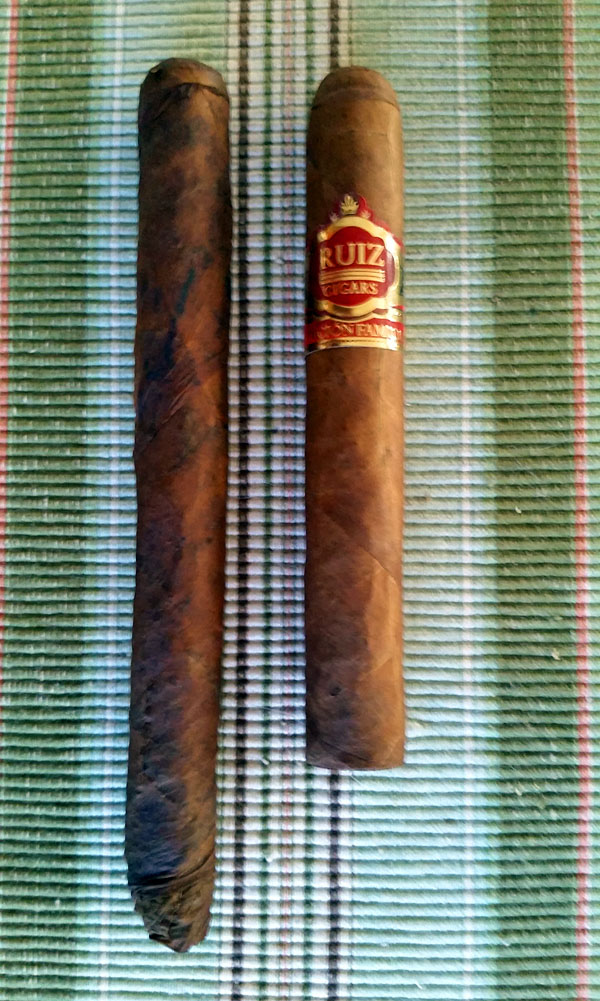 I puffed the shaggy foot Churchill after dinner. It was a very nice cigar and I enjoyed it immensely.
On Sunday, Donna rode her beater bike to do some shopping nearby. While she was out, she went to Petco and brought home a surprise for Ozark the cat. Ozark has only been outside of our coach a few times in the four years since she joined us. She likes to sit on the steps behind the screen door or in her window bed to watch the outside world, but she isn't inclined to go out.
Donna brought home a cat harness and leash. We fit the harness to Ozark and Donna took her out. She seemed to like it. She rolled in the synthetic turf in our site and they took a short walk. I'm wondering if this will encourage Ozark to go out on her own – that wouldn't be a good thing.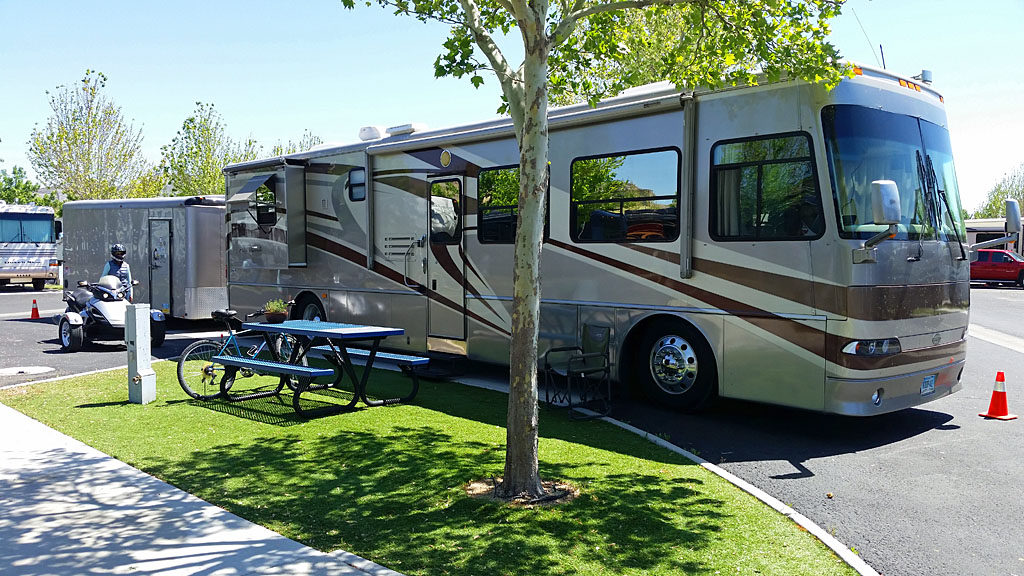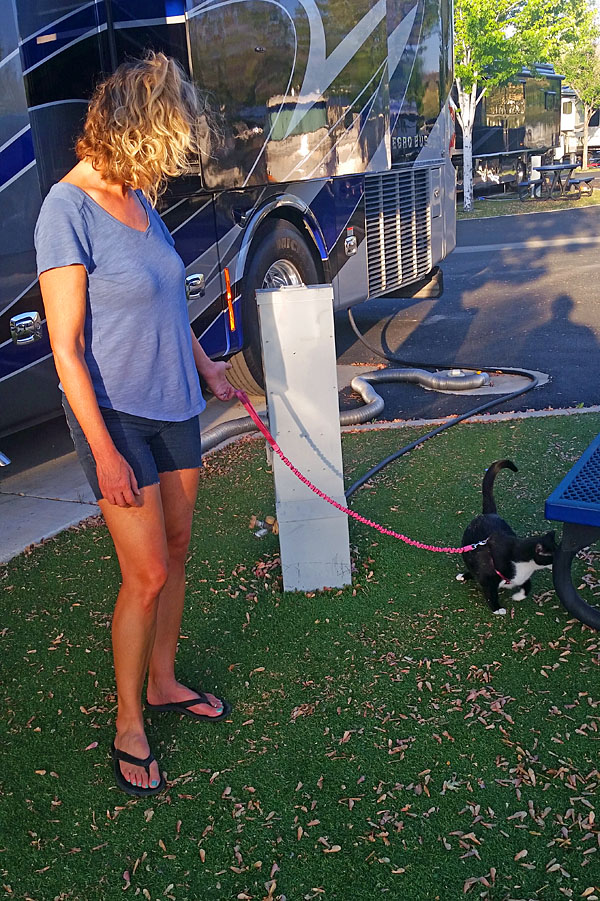 Sunday afternoon, I went back to Ruiz Cigar Lounge and sat with Marvin and shot the breeze while we puffed our cigars. He told me a lot of interesting stories about growing up in Nicaragua as a third-generation cigar roller. Another fellow from Nicaragua came into the lounge – I don't recall his name – he told me Marvin is a Master Torcedor – a title given to only the most highly skilled cigar rollers. I bought a few more cigars from him.
While we're back on full hook-ups, Donna is taking advantage by catching up on laundry and preparing some fine dinners. Saturday night she made one of our favorites – chicken enchilada skillet casserole.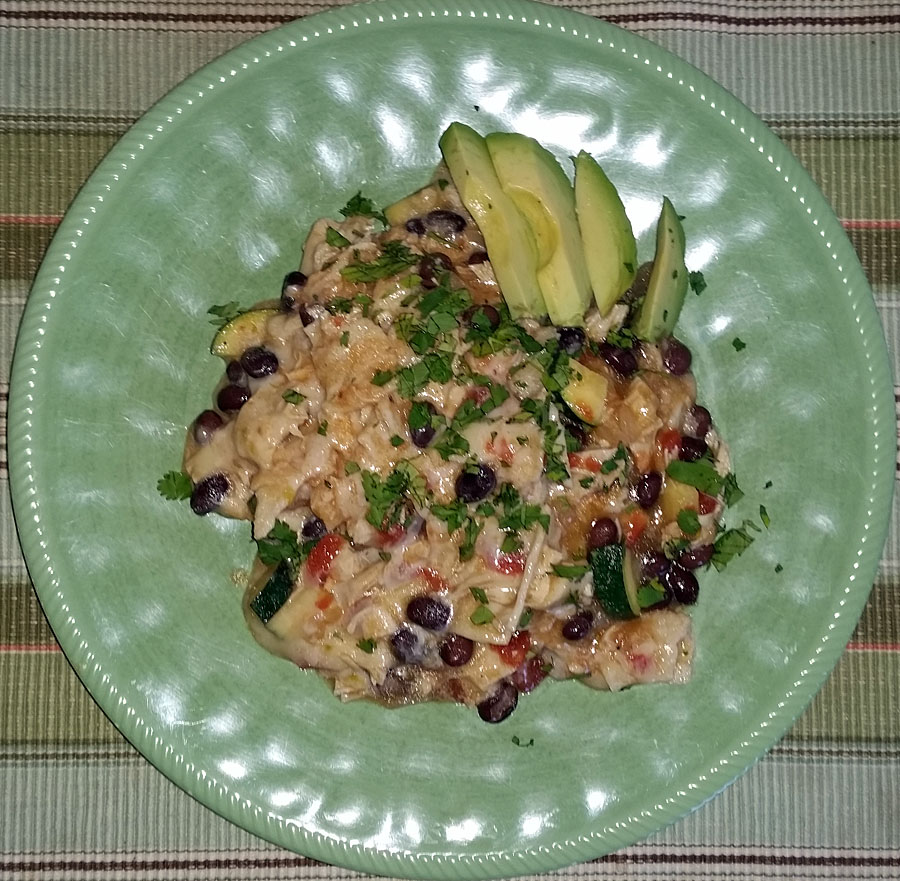 Sunday she whipped up coconut cauliflower risotto while I grilled chicken thighs. She served it with steamed spinach.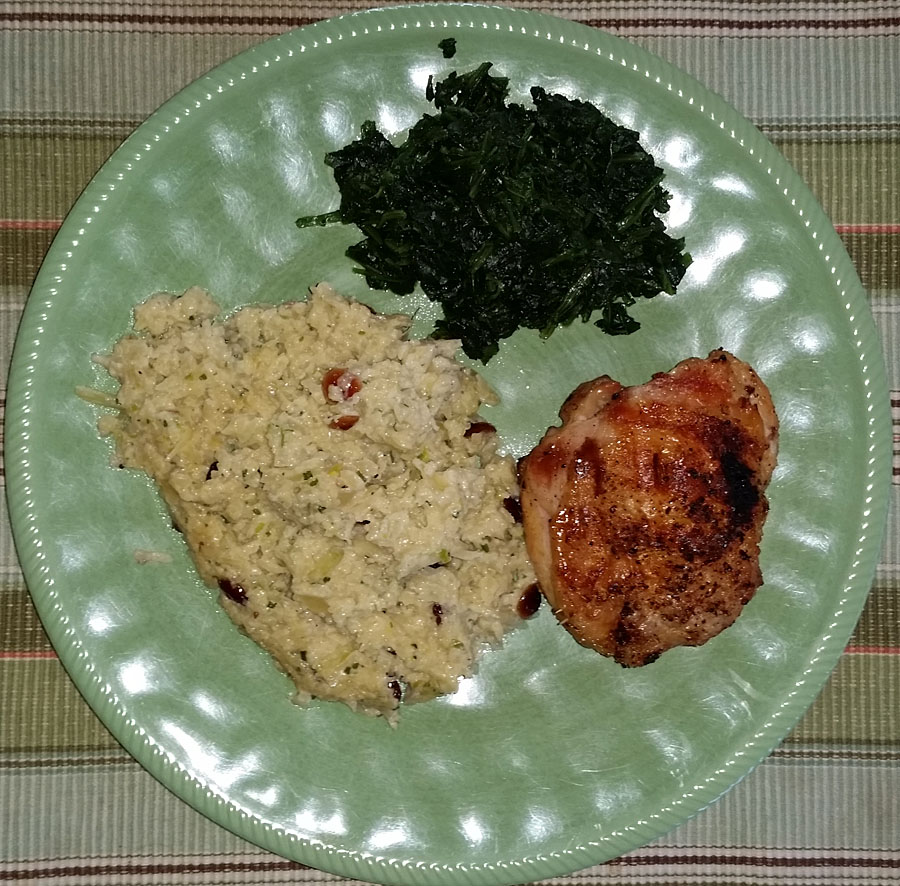 This morning we returned to the Evelyn Mount Community Center for pickleball. The games we're all high level and we had fun. We'll go back again.
The weather here in Sparks, Nevada has been holding up fine. Daily highs are in the upper 70s. It should be cooler Wednesday with a possibility of rain on Thursday. We're scheduled to depart on Thursday – with any luck we'll beat the rain. I'm not sure where we're going next – maybe Susanville, California. I'll be sure to top off our fuel tank before we enter California – diesel fuel prices are about a dollar less per gallon in Nevada than they are in California.