I wrote my last post from the Elks Lodge in Rapid City on Thursday. That night, our friends Mark and Emily Fagan (RoadsLessTraveled) stopped by with their dog, Buddy. We met Mark and Emily five years ago when we were in our first year of full-timing. Since then, our paths have crossed several times and now they're in Rapid City at the America's Mailbox campground nearby. The last time we got together was in Mesa, Arizona last March.
Buddy the dog was uncomfortable with Ozark the cat. So we sat outside and talked for a couple of hours. It's always great to meet up with friends on the road and catch up on things.
On Friday Donna and I had appointments at the driver's licensing office nearby. We could've changed our information online by scanning a form they gave at our new mail service (Your Best Address), but if we wanted the correct address to appear on our actual license we had to go to the office. This entailed a new application and a $15 fee. I had just paid and renewed my license in June, but there wasn't any way around it. We paid up and walked out with new driver's licenses in about 10 minutes.
Saturday morning we heard a lot of activity early – before 7am. The Rapid City Elks Lodge is unique in that it has an 18-hole golf course on the property that's open to the public. Their restaurant and bar is also open to the public. I haven't been to any other Elks Lodge that allows the public to have access to the bar unless accompanied by a member in good standing. Anyway, it turned out there was golf tournament there Saturday morning. They were setting up and some foursomes had early tee times.
The parking lot was filling up. I went to our trailer and put traffic cones in the spaces in front of it – if someone parked in front of the trailer, we wouldn't be able to hook up. We were packed up and hooked up the trailer with no problem by 11am.
We've been re-watching the HBO series, Deadwood. This series is set in the town of Deadwood, South Dakota in the 1870s. Some of the characters actually existed – Seth Bullock was the sheriff, Sol Star was his partner in a hardware store, Al Swearingen owned the Gem saloon and casino. But other than that, the account is fictional and greatly embellished. We enjoy watching it and are on the third and final season.
We decided it would be fun to spend a day in Deadwood. I found a likely boondocking spot on Google Earth about six miles from Deadwood outside the Black Hills National Forest on Rochford Road. It was about a 50-mile drive, mostly uphill. We found the spot and it was a huge gravel parking area that was fairly level at one end. No other vehicles were there and no signs were posted. We set up and prepared to get the Spyder out to head back into town. We were at an elevation near 6,000 feet above sea level – our GPS showed 5,965.
At the back of the trailer, I looked at the sky to the southeast. It looked ominous. I checked the Radar Express app and saw we were about to get hit with a thunderstorm. We didn't unload the Spyder and went back inside instead. About 20 minutes later, the skies opened up and it poured rain. It rained off and on the rest of the afternoon with a few bouts of pea-sized hail. We managed to get outside for a couple of short walks, but it was raining too hard most of the time to do anything. So much for our tour of Deadwood.
On Sunday morning, it looked like wind and rain would continue. We decided to head over to Spearfish. Mark had told me about the Walmart there and said it was a great spot to dry camp overnight. We drove down through the scenic Spearfish Canyon. A marathon event was being held, but lucky for us the runners were in the opposite lane from us going downhill. We dropped about 2,000 feet of elevation and found the Walmart at an elevation of 3,900 feet above sea level. We shopped a bit and hung out while the clouds slowly cleared. About half a dozen RVs overnighted there.
We were in no hurry to leave, so on Sunday morning, we got the Spyder out – it was finally dry outside. We rode into the historic downtown area and parked. We stopped at the visitor center, then took a walk and had a look around. We were mostly reconnoitering for future reference – we think we would like to spend some time here next year.
Centered on Main Street is the Matthews Opera House and Arts Center. This building dates back to 1906. Currently the Opera House hosts live music of all genres, an art gallery and theater.
After walking around, we rode the Spyder to the D. C. Booth Historic National Fish Hatchery. This hatchery was created in 1896 and is located on a beautiful park-like property. They had an underground fish viewing window in a pond where they keep adult fish for educational purposes. These were some of the largest trout I've ever seen at any hatchery. We were told some of the fish in the pond were 10 to 12 years old.
The ponds and raceways are fed with fresh water from the Spearfish Creek which runs adjacent to the property. They had a fish car – a rail car that was used to transport fish across the country for broodstock and for stocking streams and lakes. They would load the car with large stainless steel milk jugs full of fingerlings in fresh water. The fish cars were in use until the late 1930s when trucks took over.
We left Spearfish just before noon. Our route took us west into Wyoming on I-90 to Sundance where we left the Interstate and headed south on WY585 to US85. The road surface was smooth and traffic very light on this scenic byway. We drove through cattle ranch land and spotted dozens of antelope along the way. We pulled into the town of Lusk – population about 1,600 – around 3pm and found the Elks Lodge. We're back up to 5,000 feet above sea level.
The Elks Lodge here is a brick building erected in 1910 that originally served as the high school. Their parking lot is fairly large and level and they welcome Elks members to dry camp. When we pulled in, I saw someone at the front door. I went over to ask about parking and he told me to pick anywhere I wanted. The lodge is only open on Thursday, Friday and Saturday so we had the place to ourselves.
We got the coach and trailer lined up in a level spot and set up. Then we took a walk back into town and found the Stagecoach Museum. The Stagecoach Museum name is a bit of a misnomer as it contains much more than stage coaches. It is a collection of Old West and Wyoming memorabilia.
Much of the stage coach material revolves around the Cheyenne Black Hills Stage and Express Line owned by Russell Thorp. The stage ran a distance of 320 miles from Cheyenne, Wyoming to Deadwood, South Dakota. It started operating in 1876 and was owned by F. D. Yates. Later, Russell Thorp Sr. bought the line. It was interesting to read about the stage and I've included a photo with a letter describing the operation from Russell Thorp's son – click to enlarge and read.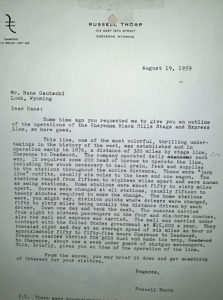 They also had some oddities on display. For example, fossil remains of a triceratops dinosaur found in Wyoming and a two-headed calf born in the area in 1942.
The wind picked up in the evening and we had gusts up to 30 mph overnight. Today is windy with thunderstorms moving in this afternoon. I have a theory that all of the smoke from the wildfires out west are collecting moisture in the particulates – like seeding clouds – and the result is higher than normal rainfall across the area. We're going to move on to Cheyenne and hope it isn't too windy or stormy.