The Fourth of July was our last full day in Little Deer Isle, Maine. It was a mostly relaxing day after the parade in the morning. I loaded the Traeger in the trailer and straightened things out a bit. We never got a chance to go out on Roger's little sailboat – it's called a Bullseye. Maybe next time – Roger just got it in the water the day before.
Roger's neighbor Russ took the grandkids out tubing behind his 21-foot Boston Whaler in the afternoon and Donna went along for a joyride.
Everyone went out to watch fireworks after dinner, but Donna and I hung back and watched the Buck Harbor fireworks from camp chairs by our coach.
Thursday morning I had to do a bit of jockeying to get us out. First, I took the ball and mount out of our receiver hitch and put into the receiver on Roger's truck. I used his truck to position our trailer – it was much easier than trying to hitch up to our coach in the tight space. Then I put our hitch back together and hitched up our coach, loaded the Spyder and we were ready for the road. It was 10:45 by the time we pulled out – a little later than I wanted.
We left the island and followed route 15 up to Orland. I crossed the bridge to Verona Island, then crossed the beautiful Penobscot Narrows suspension bridge. We followed Route 1 to Belfast where we picked up Route 3 all the way to Augusta and I-95. We were backtracking across the same route we came up on – basically following our breadcrumb trail.
We went back to Cabela's in Scarborough just south of Portland to spend the night again. I dumped and flushed our holding tanks as soon as we got there. There were more RVs in the lot this time – the season is in full swing. By morning, I counted 15 RVs on our side of the lot. We walked to Famous Dave's for a beer and dinner. They have live music on Thursdays and we enjoyed the performance.
I was a little concerned about Friday's weather. The forecast showed thunderstorms and a cold front advancing across our path of travel. There were heavy rain and wind warnings. At 9am, all looked good so we pulled out. For some reason, our tolls on the way back were higher than on the way up. I paid $3.50 on I-95 and another $3.50 a couple of miles before we exited at Scarborough. When we got back on I-95, I hit another toll booth within a couple of miles and paid $3.50 again. Then I paid a toll on I-93 of $10.50 bringing the total for Maine up to $21.00.
We hit a few rain showers and visibility was poor at times, but we skirted the brunt of the storms which stayed mostly north of us. We made a stop in New Hampshire at the Hooksett Toll rest area. We stopped for lunch and Donna met up with her college friend, Paula Violo.  She lives and works nearby and they had not seen each other in 37 years. They spent an hour catching up over lunch while I hit the New Hampshire liquor outlet at the rest area – probably the best prices in New England.
It was an uneventful drive from there. I paid two tolls of $2.50 each to get across New Hampshire. We made good time until we got stuck behind a motorhome on Route 9 for the last 20 miles or so before Bennington. The driver seemed scared and unaware of how to use his engine brake. I could hear it activate, but it wasn't as effective as our Jake and he would ride the brake pedal and go very slowly on each descent and slow excessively for curves. I had one chance to overtake on a passing lane on an uphill grade. Of course he hit the pedal to the metal there and drag raced me up the hill. I slowed and pulled back in behind him to allow cars behind to overtake us.
We parked in nearly the same spot we were in two weeks ago at Donna's parents' place. We quickly settled in. Saturday morning Donna and went to the Bennington farmers' market. Donna picked up some cheeses and a lemon pound cake.
As we often find at farmers' markets, they had small stage and a guy playing for tips.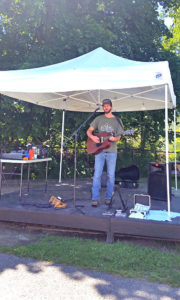 We also bought a steelhead trout filet at the store that I grilled for dinner.
Once again we're boondocking without any hook-ups. Our new Lifeline AGM batteries are performing great. Saturday I had the TV and Dish receiver running on the inverter watching Wimbledon coverage all afternoon. The batteries held at 12.7 volts!
Our Xantrex Freedom 458 inverter is a modified sine wave unit. Modified sine wave produces alternating current, however it doesn't work the same as a true sine wave like you would find from a typical wall outlet. A true sinusoidal wave rises above the zero line in a smooth arc, then drops in the same arc to the zero line and continues below before rising back to the zero line. In our 120-volt alternating current system used in the USA, the voltage rises above the zero line to +170-volts, then goes below the zero line to -170-volts and swings back again. It does this 60 times per second. The 170-volt peak results in a root mean square (RMS) voltage of 120-volts.
Our modified sine wave interverter does something similar. The difference is in the wave shape. Instead of a smooth arc as the voltage increases and decreases, the wave form is square. It goes from the zero line nearly straight up, then flattens before falling nearly straight down past the zero line before flattening again and then rising. Modified sine wave inverters use simpler, less expensive circuitry than a true sine wave inverter. Most of the time, there no difference. However, some sensitive electronics – especially those with marginal circuitry, might not get on well with the square wave.
We found that to be the case with our Mr. Coffee thermal coffee maker a few months ago. Well, yesterday after I made coffee while the generator was running and recharging our batteries, I forgot to unplug the coffee maker. While I was enjoying TV all afternoon, the modified sine wave destroyed the weak electronics in the coffee maker again! So, I'm happy with the performance of our battery bank and the inverter is useful for most things, but I have to buy another coffee maker.
We've had nice weather since we arrived in Bennington. Last night was cool, but I found it to be comfortable especially after the high humidity in Maine. The forecast calls for a high of 82 degrees today with the relative humidity at 42%. Nice. The next few days should be similar.