This blog is written on a template from WordPress. Periodically, WordPress updates the platform. I was told, by someone in the know, to always update to the latest version. Sometimes the update fixes bugs or plugs vulnerabilities. So that's what I do. Well, the latest "upgrade" changed the whole platform. My photos no longer are reduced to a smaller image that can enlarged to their original size by clicking on them – they are sized to fit the page automatically. I don't see this as an upgrade.
It's taken me a while to figure out how to insert links in the new format. The biggest issue I have is with the sidebar widgets. I have affiliate links in the sidebar. Some no longer work – for example, I'm an Amazon affiliate. If you go to Amazon from my website link, I earn a small referral for anything you buy from them on that visit. You pay the same price – I just earn an small referral fee. It isn't much and now that the link has broken, my last statement showed I earned all of 54 cents in the last month. I'll have to figure out how to fix it. I'm never going to get enough referral money to even pay for the web hosting cost of a blog, but a few bucks here and there doesn't hurt.
I don't have much to report on the RV side of things. We're settled in and I haven't had any real projects here in Mesa. We stay active at Viewpoint Golf and RV Resort though. I've been busy playing pickleball and instructing pickelball lessons. Giving lessons has helped me focus my own play – so it's beneficial to both me and my students.
We enjoy the birds here at Viewpoint. When I bought the second quail block to attract and feed birds, I wondered if I could keep it up. The birds demolished the first one in about 10 days. At $14 per block, I wasn't sure if I should keep it up. Now that we have much warmer weather, the birds have an easier time finding more naturally occurring food sources, so the block isn't disappearing as fast.
Ozark the cat loves the quail block. She sits on the bottom step of the entry and watches the birds through the screen door. She doesn't try to go outside though. I think she had enough of the outdoors when we found her as a young kitten hiding under our coach at Turkey Creek near Branson, Missouri. She'd much rather stay dry and well fed in our coach.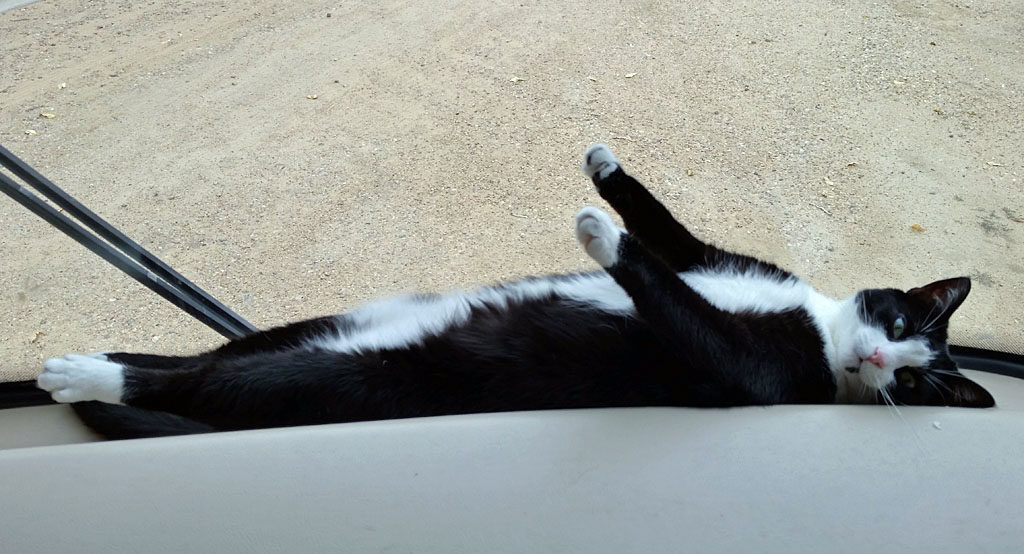 Our friends Mike and Jodi Hall have a rescue kitten that looks a lot like Ozark the cat. We were talking over happy hour at Lucky Lou's and Jodi told us her cat story. Apparently, the night before, their kitten, unbeknownst to them, went out the back screen door sometime after 10pm. Jodi knew something wasn't right when the cat never came to snuggle in bed all night. In the morning, she couldn't find the cat and it didn't come when she put food out.
She checked the backyard fearing the kitten may have fallen into the koi pond or got into the pool and ended up in the filtration system, but the cat was nowhere to be found. In the backyard they have an aviary built around a tree. In the afternoon, Jodi looked at the tree carefully. Sure enough, the kitten was up in a crook in the tree. Jodi had to climb up on the aviary, then into the tree to bring the cat down. Mystery solved and now their cat doesn't seem as inclined to go outside anymore.
While I don't have any RV related things to post, I want to post a few meal pictures. I know this seems like a food blog at times, but I like to make the point that full-time RV living doesn't mean always mean eating out, grilling hot dogs or microwaving frozen food. It doesn't always have to be fancy either. Last week Donna diced leftover pork tenderloin and prepared street tacos. Yummy!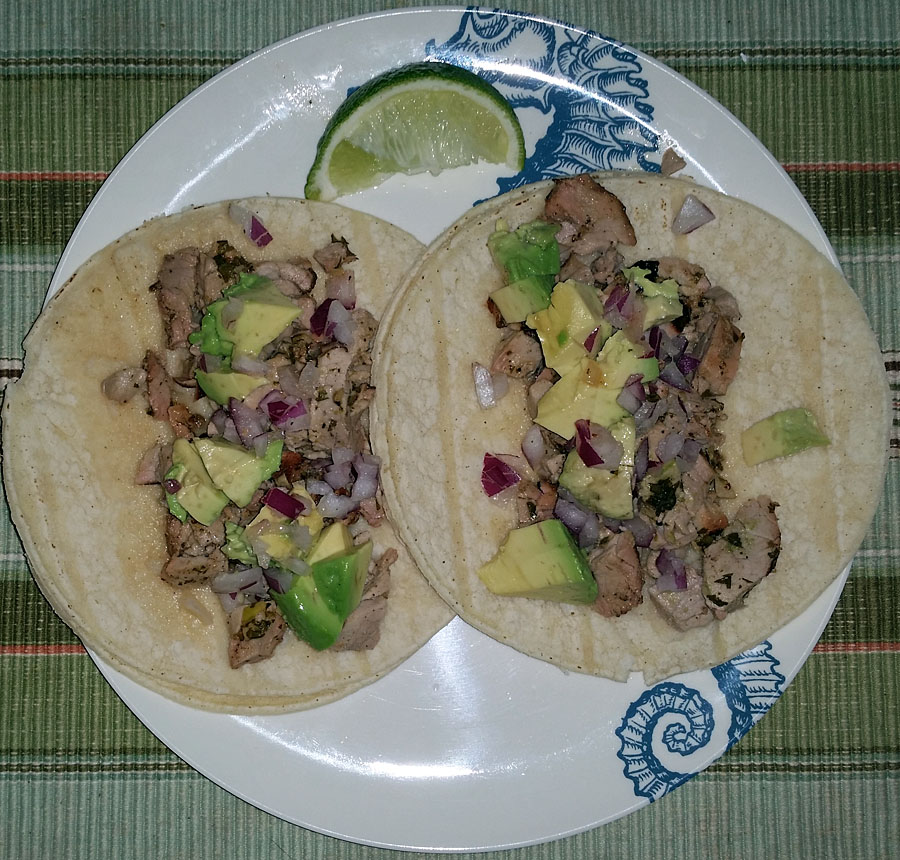 I took advantage of the fine weather and grilled steaks on Sunday.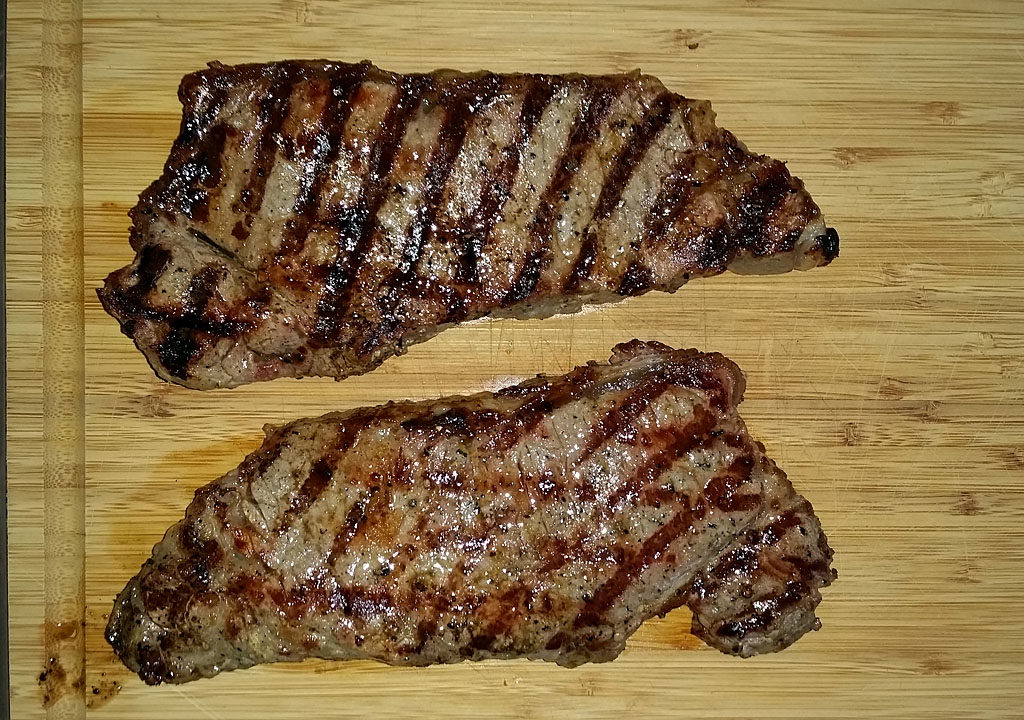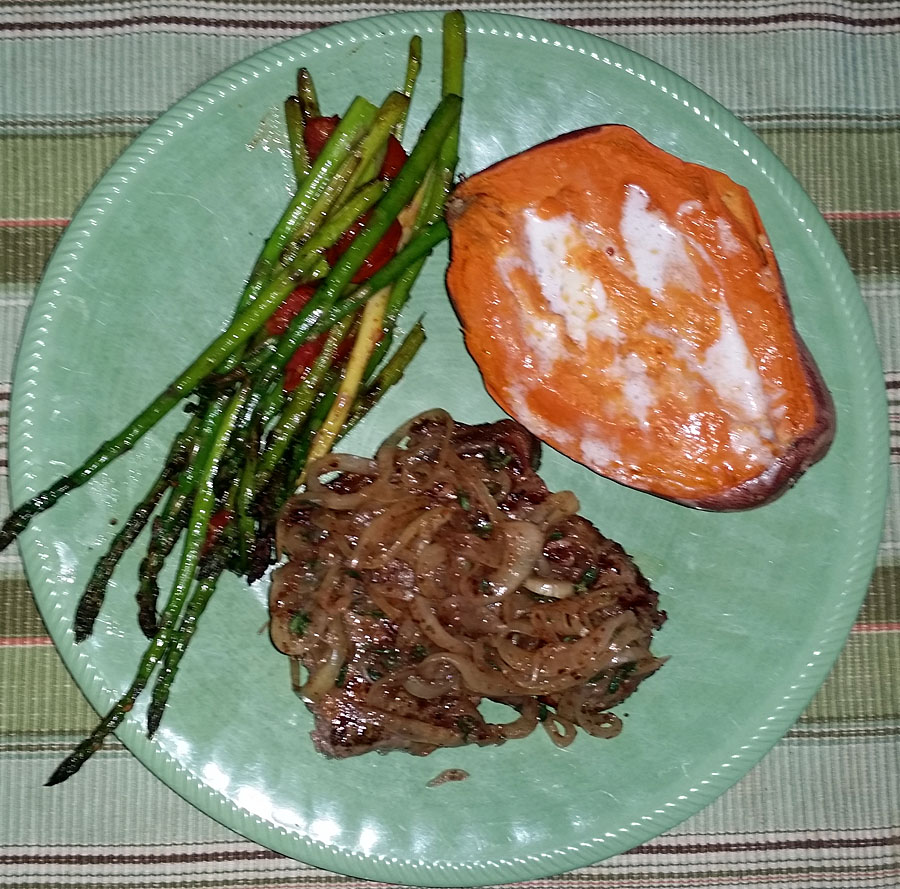 Monday Donna made a dish called chicken Gabriella and served it with mashed potatoes and roasted Brussel sprouts.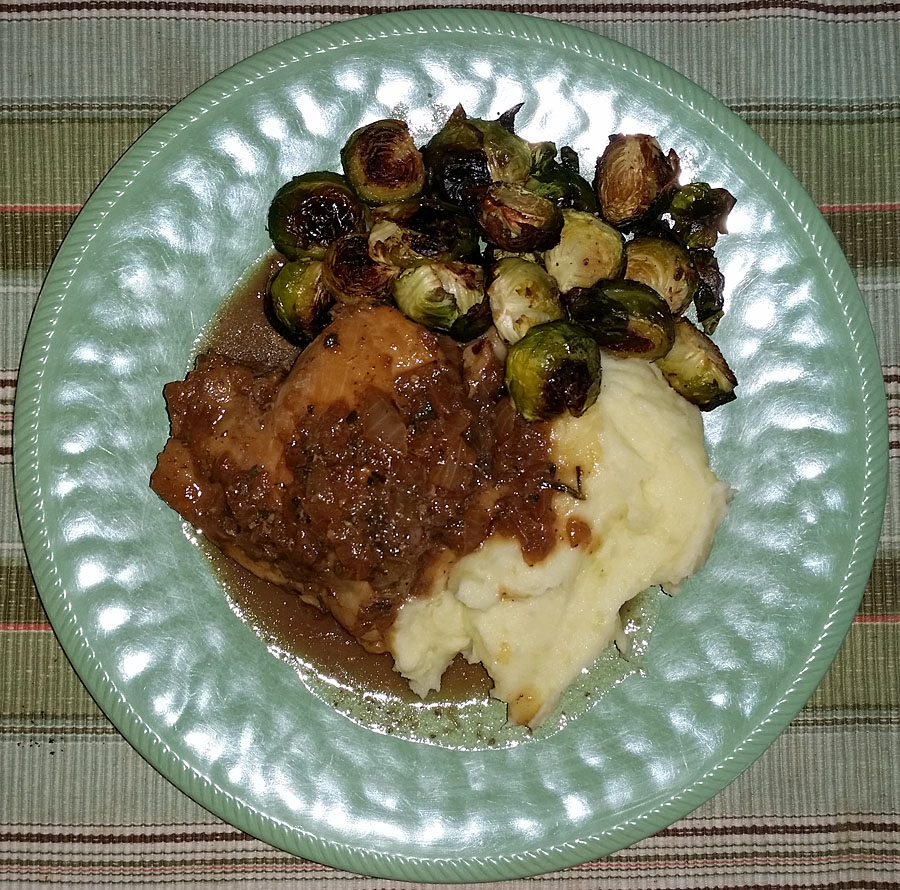 Speaking of fine weather, we've had daily highs in the mid to upper 70s over the last 10 days and even hit 83 degrees yesterday. The forecast looks good although we may have a couple of cooler days with rain showers next week. Overall, we can expect upper 70s and low 80s in the foreseeable future.