Yesterday we woke up around 7am, refreshed from a good night's sleep in the Sanders County Fairgrounds pasture. There was a train track nearby, but the passing trains in the night didn't bother us.
I had coffee and yogurt. I took my time writing yesterday's post before we packed up and left. We were back on Route 200 around 10:30am. It was going to be a fairly short drive and we planned to make stops along the way.
Our first stop was in Thompson Falls, Montana. We parked on the street and walked down to view the Clark Fork River. It was a cool little town. Friendly people and lots of quirky little shops. The river runs along the south side of town just a couple of blocks off the main drag.
There's a dam and small reservoir here as well. The water level on the reservoir can vary by as much as four feet in a day!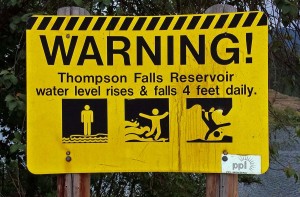 We walked along the river and reservoir then returned to our coach via Main Street. We stopped in a little flower shop that had a sign saying they had fresh huckleberries for sale. We bought a quart of huckleberries. They're one of my favorites and I haven't had them since I left Washington state in 2005.
We cruised up Route 200 and were thankful we chose this route. The scenery was unbelievable. At one point we pulled into a turn out and walked to the river. The Clark Fork River flows from Montana westward into Idaho and empties into Lake Pend Oreille.
Further up the road, I pulled off near  the town of Clark Fork and followed a road towards the river hoping to find a picnic area. I feared I'd made a big mistake as I didn't know where the road led or whether we would be able to turn around. A few miles down the road, we found a small RV park. I entered the park and was able to get turned around.
The park host told us we should look for a turnout on the left with geological information once we returned to Route 200. We found the turnout a short time later and stopped for lunch. It had a great view of Lake  Pend Oreille. There were also placards with information regarding the formation of the lake and the ancient Missoula ice dam there. We had a light lunch consisting of tabouleh salad and feta cheese.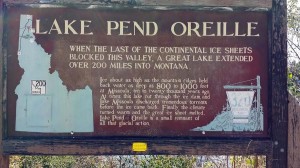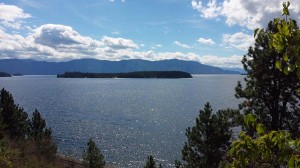 We continued onwards and crossed into Idaho. At Sandpoint, we found parking on the street and stopped again. Sandpoint is another cool town. It is somewhat touristy, but not overboard. There are lots of little shops downtown and a great beach on the lake. We stopped at Starbucks and sat outside on a deck overlooking a marina.
We walked through the downtown. When we walked down to the city beach, we found a small RV park! We talked to a guy camped there and he told us the park was run by the adjacent Best Western Hotel. We walked over to the hotel and inquired about rates and availability for next year. They are completely booked up from July 3rd to Labor Day.
We may return there in June. Staying at the RV park entitles you to use the hotel amenities including heated indoor pool, hot tub and exercise facility. Not too shabby. And you're right on the lake and within walking distance to all the downtown shops. There are also biking paths to ride out of town.
From there we drove to our destination for the day, Priest River. I parked in the grocery store lot. Donna went in to resupply our provisions. While I was waiting in the coach, someone knocked on the door. It was Jimbo's wife, Cindy Birditt. I haven't seen her in nearly 20 years, it took me a moment to realize who it was.
Cindy arranged courtesy parking for us in a small industrial complex on the edge of town. In Priest River the edge of town means we are looking at forest out the front windshield. Nice.
Once we were set up, I got online and found a message from another old friend, Howard Brutschy. He knew from yesterday's blog post that I would pass through Sandpoint and invited us to cruise Lake Pend Oreille in his houseboat. Too bad I didn't see his invitation earlier! Hopefully we can time things better next time through.
Jimbo drove over and picked us up. We went to town for a cocktail at Jammers. We were joined by Jimbo's neighbors, Mike and Linda, and went to a Mexican restaurant. The food was delicious. I haven't had Mexican food that good since we left Arizona more than four years ago.
After dinner we all convened at Jimbo and Cindy's house a few miles outside of town. Donna was the designated driver – Jimbo loaned us a truck to drive back "home."  We sampled some whiskey and had a great time talking about old times together.
Today we'll join them for breakfast and then head westward once again. Donna is making huckleberry muffins as I type this and they smell delicious.
I don't know where we'll stop tonight. Tomorrow we have reservations at a KOA in Burlington, Washington on the west side of the Cascades. I plan to travel over the North Cascade Highway tomorrow.