While Donna was out bicycling on the Jedediah Smith Memorial trail on Friday, I took the Spyder over to my old neighborhood. My family lived here in Sacramento when I was a kid, from second grade through fifth grade. We moved into a newly constructed house in the second phase of a development called Glenbrook. My paternal grandparents lived nearby in North Highlands near McClelland Air Base.
When we first moved in, our street (Midfield Way) was more or less at the end of the development. To the east, behind our backyard, hop fields filled the landscape all the way to the American River. When I was in third grade, the developers acquired the farmland and the hops were taken out. A new elementary school, Hubert H. Bancroft Elementary, was built behind our house. Our back fence bordered the school ball field and playground. The school opened in time for my fourth grade year.
When I was in fourth and fifth grades, I would walk home from school at lunch time and sit at the dining table where my mom had lunch ready for me. I'd watch the news on TV, then hop the backyard fence and join my pals on the playground. I don't think kids in elementary school are allowed to leave the campus at lunch time anymore.
On the way back to the Cal Expo RV Park, I stopped at the Raley's Supermarket on Folsom Boulevard. I wrote about entering and winning a pie eating contest at this store when I was a kid in an earlier post. The last time I was in this store was 1967 – wow, fifty years ago!
Donna's bike ride took her on the trail toward downtown Sacramento on Thursday afternoon. Although it was scenic, she wasn't too impressed by the number of homeless encampments in that direction. On Friday, she followed the trail upriver and liked it better. Later we took the Spyder down Howe Avenue to Fair Oaks Boulevard. I was looking for the Capitol Beer and Tap Room. I pulled into the strip mall lot where I thought it was, but couldn't find it. There was a building surrounded by scaffolding and obvious construction work. Donna pointed out a sign that said Open During Construction and another smaller sign with an arrow pointing to the back of the building that said Capitol Beer. We found it!
They had a large selection of beers on tap. I tried an IPA and then I had their special – Sudwerks Bourbonator. This is a bourbon barrel aged ale. It wasn't bad, not too heavy although it was 9% ABV, but it was a little sweet for my taste. Donna had a a stout from Abnormal called Mocha Mostra. She liked it at first but it left a heavy aftertaste. So she followed up with a five-ounce pour of Bike Party Pils.
Donna headed out on her bicycle for a longer ride on Saturday. The previous two days she rode 20 miles each day. Her plan was to ride the trail all the way to Folsom – about 23 miles from here. She left at 9:40am. I hung around and watched the Moto GP qualifying from Misano, Italy. Around 10:40am, I hopped on the Spyder and headed out. My destination was the Sutter Street Grill in Folsom. With an hour head start, I figured my half hour ride would put me there about the time Donna would arrive.
Sutter Street is in an historic neighborhood. The area around Folsom was called Rancho Rios de los Americanos (American River Ranch) when it was settled by William Alexander Leidesdorff in 1844. Joeseph Libby Folsom purchased the land from Leidesdorff's heirs when he died. Folsom laid out a town he called Granite City. It was during the California Gold Rush era and the town was mostly filled with miners and mining services. Joseph died in 1855 and the town was renamed Folsom in his honor.
Folsom is probably best known as the location of Folsom Prison. Folsom Dam was built in 1956 and created Folsom Lake.
Donna and I met up after a bit of confusion over where she was. I spoke to her on the phone and told her she was only two blocks away from the grill, but I sent her in the wrong direction. We hooked up soon enough and had large breakfast plates for lunch in the Sutter Street Grill. Donna had a home made corned beef hash and eggs while I had a Texas omelette – chili with beef and beans and cheddar cheese in a three-egg omelette. The plates were huge – we each brought home half of our food.
Across the street from the Sutter Street Grill, the Saturday farmers' market was going on. We took a walk through it and Donna bought raspberries and garlic. She also bought tamales.
Donna got back on her bicycle to make the ride home while I stowed her purchases in the Spyder and headed out. She took a few photos along the way on the Jedediah Smith Memorial Trail. Jedediah Smith was a mountain man who led a party of fur trappers through the area in 1827.
On Saturday evening, I grilled chicken and apple sausage and had a beer from American River Brewing called Hop Canyon IPA. The label says the brewer tips his hat to the hop growing heritage of the Sacramento area – remember when I said hop fields stretched from our back yard fence to the American River? I don't think there are many, if any hop fields here now.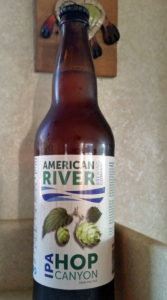 Today Donna will make a shorter bike ride – maybe 25 miles. I have a few chores to do before we hit the road again tomorrow. Donna has mapped out a few boondocking opportunities as we head to the northwest. The temperature should reach the upper 80s today with no rain in the forecast. Tomorrow will be warmer – we may be driving with the generator running to power our roof air conditioner.