We've had a mixed bag of weather the first half of this week. It's been relatively chilly – highs in the low 60s – and rain showers off and on with brief periods of sunshine.
My daughters are all here now. My middle daughter, Jamie, left with her family from the Corpus Christi, Texas area Saturday night at 10:30pm local time. They pushed through the night and ended up stopping at a hotel only once before they made it here to Arlington, Washington early Tuesday morning. Their trip was more than 2,300 miles!
On Tuesday evening, we got together at LuAnn and Jerry's house and had beer and pizza. LuAnn is my ex-wife and mother of our daughters. Jerry is her husband. We all get along very well.
Later that night, Alana, Jamie and LuAnn picked up my youngest daughter, Shauna, who flew in from Washington D.C. So we're all together again for the first time since May of 2015 in San Diego for Shauna's graduation from law school.
Wednesday was breezy and cold. I ran the heat pumps in the coach several times during the day. The girls went out to get their nails done and do some shopping. In the afternoon, Donna ran into town and over the hill to the Safeway grocery store. She bought a few things and loaded them in a backpack and walked back. She likes to do this whenever she can as a way to to combine exercise and an errand.
When she got back, she made turkey burger patties with green chiles and cumin spice. I grilled 16 patties on the Weber Q – two sets of six and one batch of four. We all sat on the lawn and talked and ate. The breeze made it feel much cooler than the actual temperature of about 62 degrees.
We decided to move over to Luann and Jerry's place – a couple of blocks away – as they had gas heaters in the backyard. We sat and talked over a few beers and the kids played badminton – Donna joined in a game as well.
When we arrived here last Saturday, there were a few packages waiting for us. Donna had ordered a bathing suit and I had three folding Spyderco knives. In the last eight months, I've ordered seven Spyderco locking blade folding knives.
One of the knives I ordered is a diminutive Spyderco Dragonfly – a small knife with a blade length of 2.25″ that weighs less than and ounce and a half! I bought this knife for Donna as she had difficulty handling some of the larger knives.
Donna has been carrying the knife every day in her pocket or clipped to her shorts and has found it to be very useful. The blade is very sharp and made of VG10 steel – so it's durable too. Before, when she needed to open a package – whether it was a cardboard box or plastic wrapper – she would retrieve scissors. Now she just reaches for her knife and says she doesn't know what she did without it!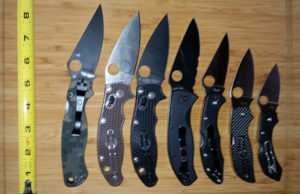 Collecting knives is a lot less expensive than say high-end watches or cars (something I've done previously) and they don't take much space. My assortment of knives is somewhat eclectic at this point.  Pictured above are the seven Spydercos.
I've gone for a variety of blade steels, handles, scale material and locking type. From left to right is a Paramiltary 2 with CPM S30V balde and G10 scales with a compression lock for one-hand operation. Then there's a Manix 2 LW with a CTS XHP blade and Fiberglass Reinforced Co-Polymer (FRCP) scales. Next is a Manix 2 LW with CTS BD1 steel and FRCP scales – the Manix knives have a caged ball bearing lock. Next is a Tenacious with 8Cr13Mov steel and G10 scales and a frame lock. Then there's a Delica 4 with VG10 blade and Fiberglass Reinforced Nylon (FRN) scales. Next up is a Chaparral with CTS XHP steel and carbon fiber scales and last is Donna's Dragonfly with VG10 steel and FRN scales. The last three all have back lock mechanisms.
If I continue to collect Spyderco knives, I need to decide on a direction. Do I continue to find different types or do I focus on something more specific? One guy on a forum started collecting a year ago and now has 23 versions of the Paramilitary 2 – all with different blade and/or scale combinations.
Tonight our granddaughter Lainey graduates from Arlington High School. The graduation is thankfully indoors at an arena in Everett. It's raining out and under 60 degrees as I type this. The forecast calls for rain to continue through Friday. Hopefully the weather guessers have it right for Saturday – they call for warmer temperatures and only a 10% chance of rain. Lainey's graduation party is planned for Saturday in LuAnn and Jerry's backyard.