After I published my last post Thursday morning, Donna and I were thinking about packing up when we heard a train whistle. It was obviously a steam-train whistle, not the air horn you hear on modern locomotives. There's something about the sound of the steam whistle – it's a more primal, almost organic sound. To my ears, it's much more appealing than an electrically operated air horn.
We knew the scheduled 10am Cumbres and Toltec Scenic Train was heading our way out of Chama. Donna had crossed the narrow gauge train track on her walk to town and we knew the tracks were across the field to the west of us. We stepped over the broken down barbed wire fence and walked across the field.
On the west side of the field, there was a dense line of pinyon pines and juniper trees. I found a game trail winding through an opening in the tree line and we came out in a small clearing next to the tracks, just in time to catch the steam-powered locomotive and passenger cars. Coal-fired steam engines produce lots of smoke!
I'm sure the engineer and passengers had to wonder what we were doing in the middle of nowhere taking photos.
It was 11am by the time we pulled out and headed south on SR17 through Chama. We continued south on US84 – it was about a 60-mile run to Abiquiu Lake. Our destination was a Corp of Engineers (COE) park on the lake. The drive down was scenic as we came through canyons and saw colorful rock formations and steep cliffs.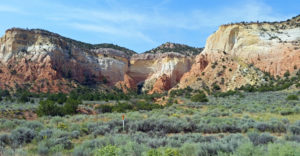 We stopped at a primitive roadside rest stop north of Abiquiu Lake and I took a couple of pictures of the rocks and the lake in the distance.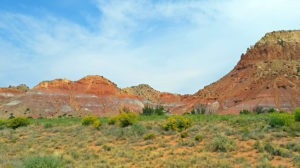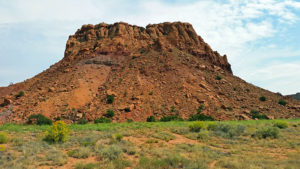 Abiquiu Lake is a reservoir created when the COE built a dam on the Rio Chama River. The lake is about 5,200 acres and is more than 12 miles long. It's said to have some of the best fishing in northern New Mexico.
We pulled into the COE park at Riana Campground. They have 39 sites, 15 of them have electricity and water. There's a dump station onsite. The odd numbered sites are reservable while the even numbers are drop-in first-come, first-serve. At mid-day on a Thursday, we thought we wouldn't have any trouble dropping in. It turned out the campground was just about full with no open drop-in sites except for dry-camping sites.
The electric and water sites are $16/day while dry-camping is $12/day. It doesn't make a lot of sense to pay $12/day plus have generator run time on top of that if you can get a site with electricity for four bucks more. There was a reserved site that was open for one night – site 11. We decided to take the site with electricity for one night and hope something would open up for us on Friday.
Site 11 was a fairly long back-in site that would accommodate our coach and trailer. The problem was that the narrow site lined with trees was also on a narrow road lined with trees. I didn't have much room to maneuver and it took a lot of jockeying to get into the site. I was getting a little hot under the collar by the time we were situated. I connected to the power pedestal for air conditioning but didn't bother with the water – we had plenty in the fresh water tank.
We made a run on the Spyder into the town of Abiquiu. It's a bit of a stretch to call it a town. There's a general store and gas station which also has an ice cream stand and a library, post office, a couple of art galleries plus the Georgia O'Keefe house and museum. That's about it.
On Friday morning, I woke up at 5:30am and couldn't get back to sleep. It was still dark out. I read in the living room while Donna slept. After breakfast, we saw a travel trailer pull out of site 10. We went over to look at it and it looked like it would work for us – it was a pull-through on the side of the park road. Before we could move on it, another smaller coach pulled out of site 12 and claimed site 10. I went over to the camp host to ask about moving to an even numbered site – I saw 12 and 4 were open now. However, site 4 would be difficult to enter – even harder than site 11.
Here's the thing – the even numbered sites are supposed to be first-come, first-serve, but they give priority to people already in the park. They said I was number three on the list. Number two was the woman who claimed site 10 – apparently she's a regular here and is afforded special consideration. Number one on the list passed on site 12, so I booked it for the next three nights.
We moved one site over to allow the campers that reserved 11 to have their site while we claimed site 12. It wasn't easy to get into, but Donna and I did a better job than yesterday, having already experienced the confined space.
I hooked up the water as well as the electricity this time. We plan to explore the area around the lake over the weekend. There are some hiking trails and a swimming beach. Late afternoon thunder showers are the norm around here at this time of year, but it shouldn't keep us from getting out during the day time.